Nordic military alliance to challenge Russia in Arctic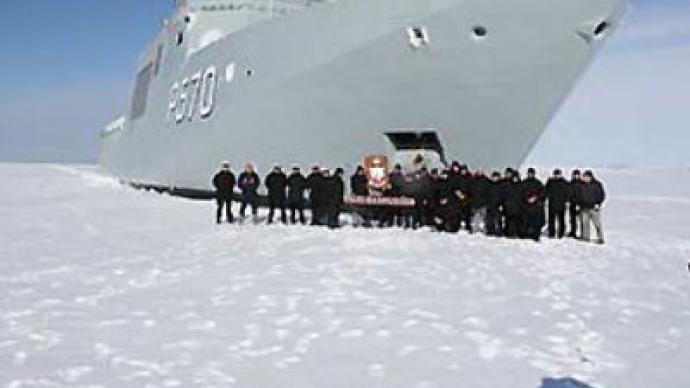 Four Scandinavian countries together with Iceland could form a Nordic military alliance to protect their interests in Arctic, says a report presented by Norway at a special meeting of the countries' foreign ministers.
The report presented by a veteran Norwegian politician Thorvald Stoltenberg proposes co-operation not limited to a joint military force, but also includes potential joint efforts in international security, air surveillance, air patrols, maritime monitoring and medical services. The report also calls for an independent polar orbit satellite system by 2020.
The interesting fact about the Scandinavian Defence Union, which could unite Denmark, Finland,
Nordic countries
Denmark (with Greenland and Faroe Islands)
Finland (with Aaland Islands)
Iceland
Norway
Sweden
Norway, Sweden and Iceland, is that it was supposed to be born immediately after WWII. The Scandinavian four were positive the union was absolutely essential to guard against possible future common threats from the Soviet Union, for example. But the birth of North Atlantic Treaty Organisation superseded these plans.
Today, Denmark and Norway (which were occupied by Nazi Germany during WWll, thus having learnt a bitter lesson) together with Iceland are already members of the NATO alliance, while Finland, which bravely fought both Soviet Union and Nazi Germany in sequence during the WWII and Sweden, which miraculously managed to escape the horrors of war, have so far preferred to stay militarily unengaged.
Now Stoltenberg has proposed pooling efforts and resources in all possible military areas, as well as
Thorvald Stoltenberg
is one of the most experienced Norwegian politicians and has held a wide number of posts in Norway (Stoltenberg is a former Norwegian Defence Minister and Foreign Minister), the UN and Norwegian Red Cross.
civil co-operation to ensure the effective maritime monitoring of the North Atlantic, and contiguous areas of the Arctic Ocean and Barents Sea (the so-called "Barents Watch"). The report also mentions the necessity of a "Baltic Watch".
A mutual declaration of solidarity in key areas of joint foreign policy and a common disaster response unit are planned to deal with any disastrous events.
For Russia formation of the Nordic Alliance could possibly mean that it will be able to speak directly to the Arctic countries, thus by-passing NATO, for 60 years now wholly controlled by the US, which in turn could mean that purely economic interests would prevail. However, this is only if the US does not enter the new organisation, because, strangely enough, it has Arctic territories too.
You can share this story on social media: