Nobel Prize 'stolen' by CIA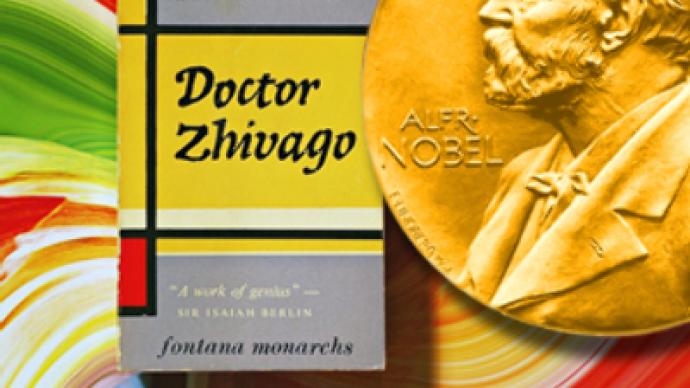 If you think the US intelligence agency, the CIA, has no interest in literature, you are very much mistaken.
According to Italy's La Stampa newspaper, it played a decisive role in giving the Nobel Prize to Russia's Boris Pasternak, the author of Doctor Zhivago and to Italian writer Alberto Moravia.

Back in 1958 the three big names in the running for the Nobel Prize were Alberto Moravia, Boris Pasternak and Denmark's Karen Blixen. Pasternak suddenly got the support of Anders Esterling, the Academy permanent secretary. His colleagues were surprised. After all, the Russian author had already been nominated in 1946 for his novel "Doctor Zhivago", which was forbidden in the Soviet Union. Then the opinion of Slavic expert Anton Kalgren was taken into account. He claimed Pasternak's books are not understandable for many people.
In light of this, the Nobel Academy lost interest in Pasternak's work. But unexpectedly in 1957 Harry Martinson described him as the most outstanding Soviet writer of the century. That, according to La Stampa, was because the West found out that "Doctor Zhivago" was banned in the author's Motherland, making Pasternak popular again. His book became known in the West after it was smuggled out of Russia and published in Italy.

But in 1958, as La Stampa notes, Moravia had the advantage. In Sweden, where the Academy is based, his works were widely known, but Pasternak's famous novel hadn't been published yet. Esterling read it in Italian and said its author was "one of the most outstanding writers of our time".
But finally, according to La Stampa, it was the CIA that decided the winner. A CIA lobby operating in the Swedish Academy wanted to annoy the USSR by giving the award to a dissident writer. So, it was Pasternak who became the Nobel Prize that year. But victory turned to personal tragedy for Pasternak himself. In the USSR it was made clear he was free to go to Stockholm to get his award – but if he did, he was told, he wouldn't be allowed back home. That was something the writer, who was deeply attached to his homeland, couldn't bear, so he didn't receive the prize. Two year later, when he was dying, he confessed he would have been happy to get it. In 1961 he was rehabilitated in the Soviet Union, but "Doctor Zhivago" wasn't published in the USSR until 1988.
Italy was compensated the following year, when writer Salvatore Quasimodo was awarded the prestigious literary prize.
You can share this story on social media: