No peace as China slams 2010 Nobel winner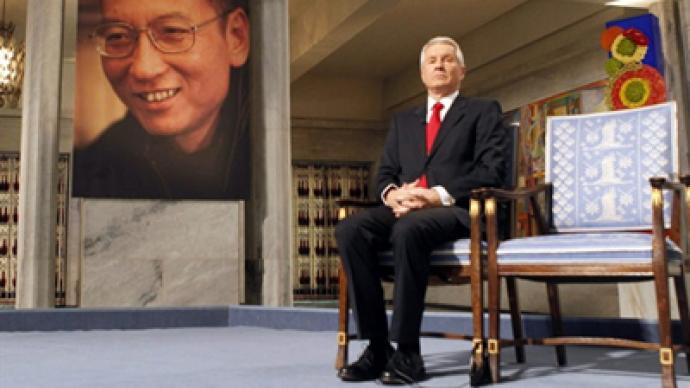 Arguing that "most nations" are against this year's winner of the Nobel Peace Prize, Chinese dissident Liu Xiaobo, Beijing promises it will not be deterred from its path of economic development.
The decision by the Norwegian Nobel Committee to award this year's Nobel Peace Prize to Liu Xiaobo, who is presently in prison for "inciting subversion of state power," is the latest incident of "anti-Chinese" behavior orchestrated by the West in an effort to slow China's progress, Beijing says.
Foreign Ministry spokeswoman Jiang Yu, breaking with China's diplomatic tradition of quiet reserve, warned on Thursday that the Chinese people will not yield to external pressure on this issue of "a convicted criminal being awarded such a prestigious honor."
She added that any move by the committee will not change the fact that "Liu committed crimes."
Jiang then criticized the US House of Representatives for calling on the Chinese government to release Liu, and suggested that the high-profile award was the latest effort to derail China's path of development.
"The US Congress' so-called resolution distorts the truth, and it is flagrant interference in China's internal affairs," she said, before warning, "Any attempt to deter China from development will be futile."
According to the website of the Nobel Peace Prize, the award is presented to whoever "shall have done the most or the best work for fraternity between nations, for the abolition or reduction of standing armies and for the holding and promotion of peace congresses".
The prize includes a medal, a personal diploma, and 10 million Swedish crowns (about $1.5 million dollars).
The Nobel Peace Prize has been called "the world's most prestigious prize".
Why so much emotion over Liu?
Born on December 28, 1955, Liu Xiaobo has been described as a writer, professor, and human rights activist.
In 1989, he returned to China from an academic visit to the United States just as the Tiananmen Square protests were heating up (it may be only coincidence that Liu also had a teaching stint at the University of Oslo, the capital of the country handing out his award on Friday). Although he is said to have played a leading role during those deadly days of public unrest, the Chinese government did not arrest Liu at that time.
Instead, Beijing accused him later of participating in foreign-sponsored "anti-China activities" from 1991 onwards.
"From the mid-1990s, Liu began to work for a company subsidized by a foundation in the US with a CIA background," reported China Daily, the English-language paper. "To ensure his income, Liu has made unremitting efforts to work for the anti-China Western forces, reviling the government and the socialist system."
It was also charged that Liu "utilized the Internet" in an effort to overthrow China's Communist Party.
"He has also utilized the internet in an attempt to get more people to join his attempt to change China's current political system and overthrow the Communist Party of China-led government," the paper said.
It was added that Liu's remarks and acts…aim at implanting Western political institutions in China and overthrowing the CPC's leadership and laws.
Meanwhile, one Chinese diplomat in Moscow, speaking on the condition of anonymity, could not resist making a connection between last year's winner of the Nobel Prize, US President Barack Obama, and this year's.
"Clearly, when an American president, however good or bad he may be, can win this award without ever accomplishing a single act of peacemaking, then something is certainly wrong with the Nobel selection process."
The diplomat then mentioned China's own "Confucius Peace Prize," which was awarded to former Taiwanese vice president Lien Chan at a ceremony in Beijing on Thursday.
The newly created prize, named in honor of China's famous philosopher, comes with a 100,000 yuan ($15,000) prize.
Mixed emotions for Liu Xiaobo
China's billion-plus people seem to hold either one of two opinions on Liu Xiaobo: On the one hand, he is described in glowing terms as the champion of democratic rights, while on the other he is portrayed as a traitor to the motherland who is ashamed of his national heritage.
Liu Xiaobo's critics will never let him forget a 1988 interview with Hong Kong's Liberation Monthly (now Open Magazine), in which the dissident was asked what it would take for China to realize a true historical transformation.
His oft-quoted reply: "It would take 300 years of colonialism. In 100 years of colonialism, Hong Kong has changed to what we see today. With China being so big, of course it would take 300 years of colonialism for it to be able to transform into how Hong Kong is today. I have my doubts, however, as to whether 300 years would be enough."
China and 18 other countries announced they will not attend Friday's Nobel Peace Prize ceremony, the Norwegian Nobel Committee has said.
Meanwhile, a spokesman for the Russian embassy in Oslo, Vladimir Isupov, said the ambassador would not be in Norway at the time of the award ceremony.
"It is not politically motivated and we do not feel we are pressured by China," he told Associated Press.
Xiaobo's wife, Liu Xia, was placed under house arrest once the award was announced, while friends of the Chinese dissident have been prevented from leaving China to collect the prize.