Russia offers condolences, aid to quake-hit New Zealand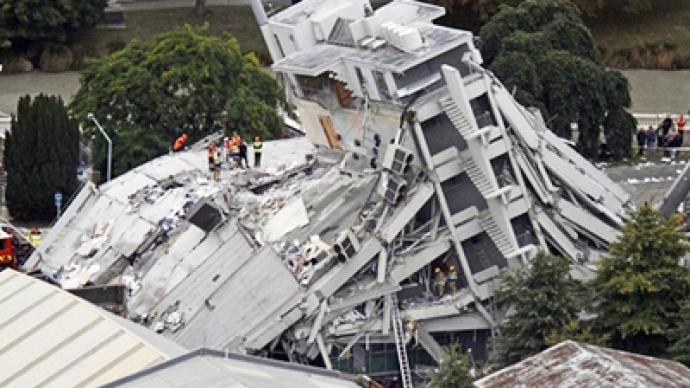 Russian President Dmitry Medvedev has sent a letter of condolences to New Zealand Prime Minister John Key over victims of a devastating earthquake that struck the city of Christchurch on Tuesday, the Kremlin press service reported on Tuesday.
­"I was grieved to learn about the natural disaster that struck in New Zealand – a devastating earthquake, in which many perished and much was destroyed. Please convey my heartfelt condolences to the families of the dead and give my words of support to survivors," the presidential letter says.Medvedev then affirms Russia's readiness to assist the people of Christchurch, a city of 350,000, in the aftermath of the quake."Russia stands ready to provide aid to New Zealand in dealing with the aftermath of the tragedy," the president wrote.The powerful earthquake, which registered 6.3 on the Richter scale, hit one of New Zealand's biggest cities at the height of a work day, bringing down buildings, crushing at least two buses, and trapping an unknown amount of people under debris and rubble. New Zealand officials have put the death toll at 65, although they said that number is expected to rise as rescue efforts continue.Christchurch Mayor Bob Parker declared a state of emergency and ordered residents to evacuate the city center."Make no mistake – this is going to be a very black day for this shaken city," he said when asked about casualties.It was the second major earthquake to hit Christchurch in five months, though Tuesday's disaster was much more destructive than a more powerful quake that struck in the pre-dawn hours over a weekend in September.Earthquake experts say Tuesday's quake was so destructive because it was a "shallow" earthquake, occurring closer to the surface and thus more powerful.New Zealand is part of the so-called Pacific "ring of fire" – a semicircle of earthquake and volcanic regions that passes from South America up to Alaska and back down through Japan to the South Pacific. The active zone registers more almost 15,000 earthquakes per year – but only a small percentage are big enough to do any damage.
Robert Bridge, RT