Duma approves new anti-terror amendments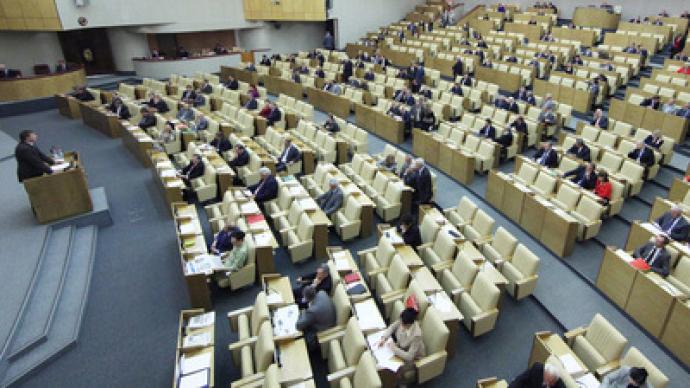 Revision and improvement of Russia's security system is a priority after Monday's attack in Moscow. The State Duma has approved introduction of color-coded security system in Russia aimed at ensuring a more efficient response to threats.
Amendments to the draft law on counting terrorism were adopted in the first reading. "The law envisions that the head of state has the right to introduce three levels of terrorist threat; they differ in the actions taken by secret services: high, medium and minimal," First Deputy Speaker Oleg Morozov explained. As in many other countries, this is a color-coded terror alert system, with red corresponding to a critical level of terrorist threat, yellow for serious and blue for rather high. The document has been drafted with the participation of the Federal Security Service, which contributed to it significantly.Under the proposal, the Russian president would introduce a certain level of terror threat by signing a decree. Each of the threat levels requires a set of concrete actions from law-enforcement bodies. The bill also provides for co-ordination of efforts between them. Unco-ordinated action and shared responsibility have long been a problem in situations where both police and security services are involved – something that has come under the microscope since the January 24 blast. The bill stipulates measures to be taken jointly by federal and regional government bodies. Deputies say the law will by no means limit citizens' rights.Initially, the first reading was planned for February 8, but Monday's deadly blast at Moscow's Domodedovo Airport, which killed 35 people and injured dozens of others, forced parliamentarians to change their schedule.
You can share this story on social media: