Kazakh president granted Leader of Nation title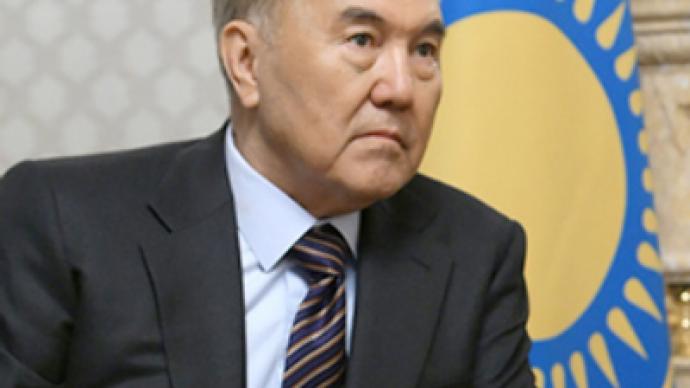 Kazakhstan's President Nursultan Nazarbayev has been granted the title of the Leader of the Nation, which provides him with lifelong immunity from prosecution, as well as other significant benefits.
The law was unanimously passed by both houses of the country's parliament and has come into force, despite the president's earlier refusal to approve the bill.
The document provides guarantees of the inviolability of Nazarbayev's and his family members' property, and also establishes responsibility for obstructing the activities of "the Leader of the Nation". The decree states that limitations on the right to be elected President of Kazakhstan do not apply to the Leader of the Nation. Nazarbayev will also be able to shape the State's internal and foreign policies, as stipulated in the document, which was published in the republic's state newspaper "Kazakhstanskaya Pravda".
In addition to granting Nazarbayev unprecedented powers, the decree also provides for museums of the Leader of the Nation to be founded and memorials to him erected in Kazakhstan. That, however, is nothing new to the republic. A Museum of the First President of the Republic was opened in Astana in 2004.
On May 12, the parliament's upper house, the Majilis, unilaterally passed the bill and submitted it to the president for approval. In June, Nazarbayev, 69, thanked the lawmakers and the citizens for their "expression of trust," but refused to sign the law.


"I have had the honor to lead the country in uneasy years of establishment and reforms, feeling your daily support in words and deeds, devotion, courage, determination and patience," he said in a televised address, as quoted by the Kazakh national information agency. "That is great happiness and I need nothing more."
He said, citing polls, that the majority of the population of the republic are in favor of the idea to grant him the status of the Leader of the Nation, "since it has already become established in the public mind."
At the same time, he added, such a status "cannot be acquired simply on the basis of the letter of the law, decrees and other legal acts," he said.
However, under Kazakh law, bills approved by the parliament are sent to the president for approval. Within a month, the head of state either signs a decree or sends it back to lawmakers to be reworked. Nevertheless, if the president neither returns nor signs a bill, it considered signed and can come into force.
Nazarbayev has been in power for over 20 years now. He served as First Secretary of the Kazakh Communist Party from 1989 to 1991. Since the collapse of the Soviet Union and the nation's independence in 1991, he has been the President of Kazakhstan.
You can share this story on social media: