Kazakh president urged to stay until 2020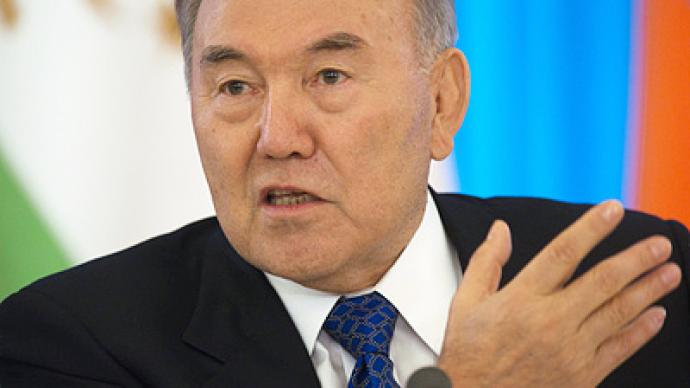 Public figures in the Central Asian country Kazahkhstan want to extend the incumbent president's term in office to save the election budget.
If the initiative is approved at the legislative level, President Nursultan Nazarbaev, 70, may rule the country through to 2020. He has been Kazakhstan's leader for two decades, and was last reelected in 2005. He was expected to seek the presidency again in 2012.Kazahkhstan's parliament extended Nazarbaev's term in office in 2007, and now he may run for the top post as many times as he wants. Starting in 2012, the presidential seven-year term will be limited to only five years.However, public representatives say they want to save election money and ask Nazarbaev to rule until December 6, 2020. They claim everyone understands that the current leader will win any election with overwhelming support.   Participants of a forum in Ust-Kamenogorsk, eastern Kazakhstan, on Thursday announced that a new initiative group will prepare a referendum. Nazarbaev's presidential powers were already extended after a referendum in 1995."Father of the Nation"This year, the president celebrated his 70th anniversary and marked 20 years as head of state. He also headed the Communist Party for a while when Kazakhstan was one of the Soviet Union's republics. Since the USSR's break up in 1991, when Kazakhstan declared its independence, Nazarbaev has been the energy-rich country's unchallenged leader.Those behind the idea of extending Nazarbaev's term stress he enjoys absolute support in society. Kazakhstan is playing an increasingly important role on the international arena. This year the country became the first former Soviet republic to hold the rotating presidency in the Organization for Security and Co-operation in Europe. The OSCE summit was held in Astana on December 1-2. Nazarbaev decided 12 years ago to move the capital from Almaty to Astana, the new purpose-built city at the heart of Eurasia.  In May, the lower house of Kazakhstan's parliament voted to grant Nazarbaev the title of "Father of the Nation." Although he refused to sign the legislation, the deputies now say the president "de-facto" carries this title.
Sergey Borisov, RT
You can share this story on social media: