NATO, you lover boy!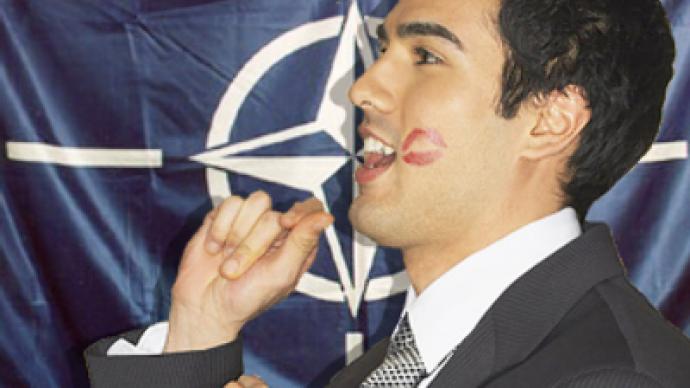 The Secretary General of NATO and Russia's envoy to the alliance have voiced their differences on family relations in Central Asia.
The two officials were speaking with journalists in the Kazakh capital Astana, which hosts the security forum of the Euro-Atlantic Partnership Council, NATO's structure for relations with European and Asian non-members of the alliance.
Dmitry Rogozin, Russia's representative in the Russia-NATO council, lashed out at the Partnership for Peace program, saying it was a vehicle to drag new countries in NATO, and now it has outlived itself.
"NATO's expansion has bogged down. It can't happen anytime soon, I'm sure. Even for Georgia and Ukraine it's impossible, not to mention other countries," he said, adding that the North Atlantic alliance doesn't know what to do with the Partnership for Peace.
The Russian diplomat gave a very vivid description of how he sees relations between NATO, Russia and former soviet republics, in particular Kazakhstan:
"It may happen that a loyal wife is courted by some men, who give her flowers. NATO is courting Kazakhstan."
"You can't compare our relation, a family relation, with that with some stranger coming to your hope with pie and trying to make you like him," Rogozin said.
The comments made at the sidelines of the forum didn't impress NATO Secretary General Jaap de Hoop Scheffer. When cited Rogozin's words, he said he didn't agree at all.
"I would express my disagreement with Mr. Rogozin, if he did make these statements. I don't see NATO as anyone's lover. We have a political role of our own," the official said.
He added: "We want nations of the region to decide for themselves whom to cooperate with. How far they would go in relations with NATO is their own business."
The enlargement of the North Atlantic Treaty Organization has been a matter of great concern for Russia for years. Moscow is uncomfortable with the military bloc with decades of history regarding the Eastern bloc expanding towards its borders, especially when it comes to former states of the Soviet Union. NATO says there is nothing to worry about.
You can share this story on social media: