NATO offers Ukraine help in reforming armed forces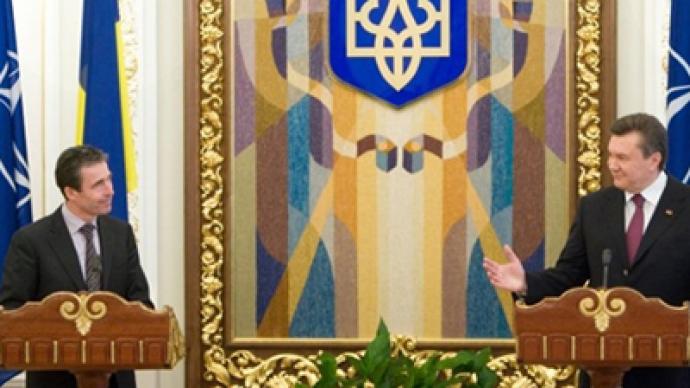 The alliance's Secretary-General, Anders Fogh Rasmussen, on Thursday discussed prospects of military cooperation with Kiev, including in the missile defense field.
NATO is ready to help the Ukrainian authorities carry out reforms, primarily in defense area, Rasmussen said after talks with Ukrainian Foreign Minister Kostantin Grishchenko. Ukraine's principles of domestic and foreign policy adopted in July last year proclaimed the country's non-membership in any military blocs. Nevertheless, Kiev is participating in NATO-led peacekeeping operations and is interested in deepening cooperation with the alliance. Ukraine has been taking part in NATO's Partnership for Peace program since 1994.Prior to Rasmussen's visit, the Ukrainian government approved the draft program of cooperation with the alliance for 2011 with some 20 joint events planned for the current year. Kiev has recently made it clear that it is ready to take part in building the European missile defense shield if NATO and Russia come to an agreement on this issue. Rasmussen said on Thursday that consultations of experts would be held to determine Ukraine's possible contribution to the program. The secretary general noted that Russia and other partners in the Euro-Atlantic region had been invited to build a joint missile defense shield. Visiting Moscow in November last year, he also did not rule out the possibility of including Ukraine's missile warning systems, deployed in Sevastopol and Mukachevo, into the program. NATO also wants Kiev to send its instructors to Afghanistan to train local servicemen and policemen. The mission clearly needs more instructors, the secretary-general said. This issue, among others, will be on the agenda of the next meeting of the Ukraine-NATO commission in April. Ukrainian President Viktor Yanukovich had earlier said that all cooperation programs with NATO would be continued, but the country's accession to the alliance was not on Kiev's current agenda. He had also dismissed an inter-agency commission on the preparation of the accession to NATO. The alliance's leadership said in 2008 that Ukraine did not meet certain membership criteria. As a non-bloc country, Ukraine is completing the work on the national security principles in the defense sector, Yanukovich said on Wednesday, while visiting a training center of Ukraine's armedforces in Chernigov Region on Wednesday. "I set strict tasks to strengthen the defense capability of the state," he was quoted by Itar-Tass as saying. Ukraine has started "creating a new system of military and industrial complex state management," the president said. One of the main goals is to re-equip the armed forces with up-to-date armament and hardware.The authorities in Kiev hope that the national program of cooperation with NATO will facilitate domestic reforms in security, defense and other areas. The document, which helps engage experts and other possibilities from the alliance, has yet to be signed by the president.
You can share this story on social media: