Russia unveils plans for "invincible" ICBM
Published time: 17 May, 2011 11:57
Edited time: 17 May, 2011 17:34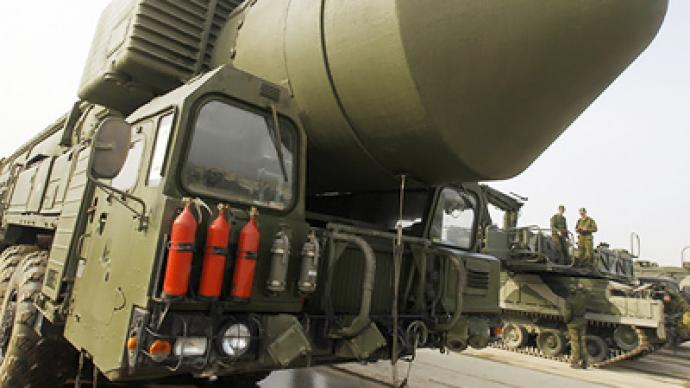 In a thinly-disguised message to NATO, which remains uncommitted to the idea of co-operating with Russia in a European missile defense system, the commander of Russian Strategic Rocket Forces (RSVN) said its ICBMs will soon be "invincible".
According to the commander of Russia's Strategic Rocket Forces (RSVN), Lt. Gen. Sergey Karakayev, Russia's RS-24 new intercontinental ballistic missiles (ICBM) will be capable of defeating any possible missile defense system within the next 15-20 years.

Speaking before journalists in Moscow, Karakayev said: "Speaking about combat effectiveness, it is necessary to note the new missiles' ability to be invulnerable before launch thanks to their mobility, as well as their ability to tackle the task of defeating any possible missile defense system within the next 15-20 years, should such a need arise."

Karakayev revealed that some missile complexes are already equipped with the RS-24 missiles.

"The first missile regiment, comprised of two batteries armed with Yars advanced land-based mobile missile systems, equipped with RS-24
intercontinental ballistic missiles with multiple warheads, entered duty
at the Teikovo missile division, based  in Ivanov region, on March 4,"  the commander told a press conference at Interfax. "This is a weapon that has accumulated the best qualities of the Topol-M missile and has acquired new combat possibilities."

The missile has characteristics that make it possible to speak about the invulnerability of (these weapons) at all of the sections of their flight course, he added.

Although the Russian commander did not directly mention US plans to build a missile defense system in Eastern Europe, Moscow has said many times in the past that any missile defense system on its borders will necessarily be perceived as a potential national security threat.

At the NATO-Russia Summit in November, which saw the attendance of President Dmitry Medvedev, it appeared that the ground was set for a real co-operation between Moscow and NATO, the 28-nation military bloc that served as a balancing act against the Warsaw Pact countries during the height of the Cold War.

Medvedev stressed in no uncertain terms that Russia would be forced to defend itself if NATO went ahead and developed the system unilaterally.

If Moscow does not take part in the project, "we will have to defend ourselves," he warned. The dialog on this issue will continue, but the results should be "clear" to Russia, he added.

Increasingly, and with tremendous possible repercussions for the much-hyped US-Russian reset, NATO seems reluctant to bring the Russians on board the system.

Meanwhile, as talks on missile defense sputter, NATO is attempting to "do its job without sharing know-how and its political and legal guarantees with Russia," Russian Ambassador to NATO Dmitry Rogozin told reporters on Monday.

Arguing that NATO is hoping the present standoff over missile defense in Europe will pass, Rogozin said there is no chance of this happening

"No, it won't pass," he said. "We will get what we want with Russia's interests taken into account, one way or another."

Meanwhile, Rogozin believes that Russia's NATO partners will come around to the idea of creating a single European missile defense system with Russia's direct participation.

Mutual participation in the ambitious project will not only enhance the level of our common security, he stressed, but create a unique co-operation potential.

However, in the unfortunate event that a shared missile defense system does not come to fruition, the NATO ambassador said "Russia will be forced to foot the expense of providing a military-technical answer."

President Dmitry Medvedev and US President Barack Obama are expected to continue their dialogue on missile defense, among other issues, in Deauville, France, where a G8 summit is scheduled for late May.

Preparations for the summit are continuing along diplomatic and military channels, Rogozin said, while mentioning that Russia is prepared to be patient on this extremely critical issue.

"We are in no hurry," he said.

Although Russia has declared its willingness to show patience with NATO on the question of a joint missile defense system, it is clear that Russia's missile designers will not wait for the last minute to develop their technologies.