Breaking the "cold spell" in Russia-NATO relations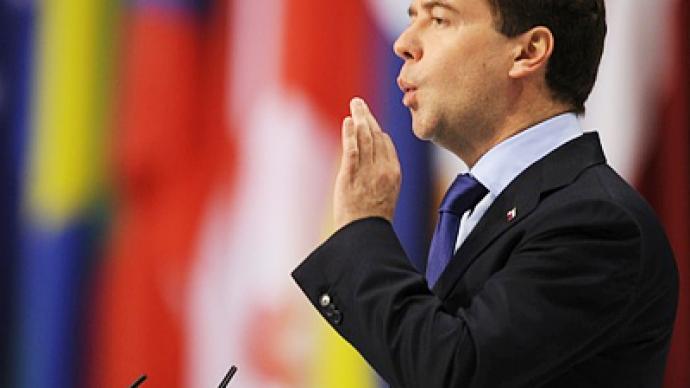 Russia and NATO, formally signing off on their old Cold War antagonisms, have agreed to co-operate on European missile defense while vocalizing their support for New START.
Although falling short of Russia's full-blown membership in the 28-nation military bloc, the Russia-NATO Council released a historic document at the weekend that announces a true strategic relationship.
The joint statement recognizes "the security of all states in the Euro-Atlantic community is indivisible, and that the security of NATO and Russia is intertwined."
"We, the Heads of State and Government of the NATO-Russia Council, met today in Lisbon and affirmed that we have embarked on a new stage of cooperation towards a true strategic partnership," said the statement, released during NATO's Lisbon summit.
"We will work towards achieving a true strategic and modernized partnership based on the principles of reciprocal confidence, transparency, and predictability, with the aim of contributing to the creation of a common space of peace, security and stability in the Euro-Atlantic area."
Anders Fogh Rasmussen, the Secretary General of NATO, said the agreement marks the first instance of mutual defense between the alliance and Russia.
"For the first time the two sides will be co-operating to defend themselves," Rasmussen said. "The NATO nations and Russia have today agreed in writing that while we face many security challenges, we pose no threat to each other."
Russian President Dmitry Medvedev said the "cold spell" between the two sides is over and now it is time to look to the future.
"We recognized that the cold spell and period of grievances is over," Medvedev said during a press conference following the summit on Saturday. "We look into the future with optimism and try to develop relations between Russia and NATO in all directions."  
The declaration acknowledges that Russia and the alliance will work towards the development of a strategic partnership, the Russian president said.
"Resistance to terrorism, drug trafficking, problems related to piracy, the proliferation of weapons of mass destruction – these all are subjects on which we have virtually no differences."  
Meanwhile, US President Barack Obama hailed the "resetting" of NATO-Russia relations.
"We have agreed to co-operate on missile defense, and we have turned a source of past tension into a source of co-operation," the American president said. "We see Russia as a partner, not an adversary."
More than words?
Now that Russia has been declared a strategic partner of the North Atlantic Treaty Organization, both sides will be looking for concrete proof to back up the pledges. This is where things may be tricky. Indeed, while the summit represented a dramatic step forward in Russia-NATO relations, it failed to etch the golden promises by NATO "into stone." This could lead to many misunderstandings down the road.
For Russia, the future success of any long-term relationship with NATO hinges on Washington's plans for building a missile defense system in Eastern Europe.
Without an equal partnership in the development and maintenance of this sophisticated system, Russia will have no choice but to view the system as a potential threat to its national security and "act accordingly."
"Russia will take part in building a European missile defense system only on the principles of partnership and equality," President Medvedev told a press conference following the Russia-NATO summit on Saturday. "We should find out what our place is and, of course, we should proceed from the idea that our participation should be absolutely equal."
Medvedev stressed there could be no participation in the US missile defense shield for the mere sake of "decoration," otherwise Russia would view the European security architecture as a threat.
Such a dangerous crossroads would most likely spell the end of any lasting friendship because that would place Russia into a position where we would "be forced to defend ourselves."
"Either we are involved on a full scale and take responsibility for resolving specific problems or we don't take part at all," Medvedev said.
"And if we are not involved at all, then for understandable reasons we will have to defend ourselves."
Medvedev stressed that the European missile defense system should be "universal," and not limited to the interests of just a few countries.
"Everyone realizes that missile defense as a whole is valuable only if it is universal," Medvedev said. "Not just an element helping some countries…or applying to individual theaters of operations."
Finally, Russia supports the development of a "sectoral" missile defense in Europe, which allows for a sharing of responsibility within the system.
"We suggested continuing the development of so-called sectoral missile defense," Medvedev said. "This is a subject that requires separate analysis and…diverse arguments may be put forward in terms of sharing responsibility in the framework of European missile defense."
Different countries may have different approaches, he added.
It was agreed during the Lisbon summit that in June 2011 defense ministers of the NATO-Russia Council will conduct a comprehensive analysis as to how co-operation in missile defense will proceed.
The missile defense domino
The proposed US missile defense system planned for Eastern Europe is a massive domino train that threatens to take down everything in its path, including Russian-NATO relations and the hope for New START, the strategic arms reduction treaty that was signed by Medvedev and Obama in April.
The crucial document, which promises to slash the nuclear arsenal on both sides to 1,500 warheads, is still languishing in the US Senate where Republican lawmakers seem loath to help Obama's presidential credits with a big win on the foreign relations front. Indeed, the real Cold War these days is not between NATO and the Warsaw Pact countries, but in Washington between the Democrats and the Republicans.
Following on the heels of a big Republican win in the Congressional midterm elections, much of the wind has been taken out of Obama's sails. Now the American leader is in the very uncomfortable position of being forced to get Senate ratification of New START before the newly-elected Republicans take their seats in January.
Thus, Obama took his message of hope to NATO and Russia before heading back home in his last-ditch effort to save New START from backstabbing partisan politics.
"I have received overwhelming support from our allies here that START — the New START treaty — is a critical component to US and European security," Obama told a press conference on Saturday in Lisbon. "And they have urged both privately and publicly that this gets done."
Obama added that it would be a "profound mistake" if Europe slipped back into an atmosphere of mistrust due to political squabbling back in the United States.
"There are a whole range of security interests in which we are co-operating with Russia and it would be a profound mistake for us to slip back into mistrust as a consequence of our failure to ratify Start," Obama said.
New START would reduce both countries' nuclear arsenals and allow each to inspect the other's facilities.
President Obama said the Senate should "rise above partisanship" to ratify the deal.
The interconnectedness of New START and missile defense is easily visible by the following warning forwarded by the Russian president.
"The missile defense system must not shift the existing parity because for understandable reasons, if the nuclear balance is shifted in one way or other as result of missile defense, this will lead to an arms race," Medvedev told reporters on Saturday.
"In this sense the idea of missile defense can be constructive but it can also be dangerous," he added.
Indeed, in the event of NATO and Russia failing to reach working agreement over missile defense, New START itself will crumble under the weight of a new arms race.
The US Republicans must be forced to understand the potentially disastrous consequences their political brinkmanship could have on the international scene. Obama's best pitch would be to paint his political opponents as the opponents of peace, as well as opportunists who would even risk another arms race that nobody can afford all in the name of short-term political gain.
As for Russia, all it can do at this critical stage is sit back and watch the circus of American politics at its very ugliest.