NATO calls for calm as Russia goes shopping for French warships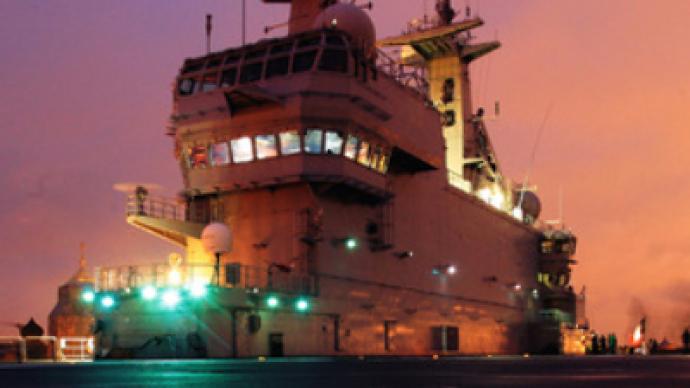 Anders Fogh Rasmussen, NATO's Secretary General, attempted to ease alliance members' concerns over Russia's planned purchase of French-made warships.
Earlier this week, French President Nicolas Sarkozy announced that "exclusive" talks over the sale of four Mistral-class amphibious assault ships to Russia had begun. He underlined that the vessels will be created "without military equipment".
The French leader told western allies that it was time to turn the page on Cold War era and trust Moscow. The announcement came Monday at a joint media conference following the French president's meeting with his Russian counterpart Dmitry Medvedev in Paris.
On Wednesday, NATO's Secretary General said that it was up to France to make the decision over the sale, Itar-Tass agency reported.
"I take it for granted that the deal will fully comply with international regulations of arms sales," Anders Fogh Rasmussen said during a press conference in Brussels. He also underlined that NATO was not involved in the sale.
"Russia is the alliance's important partner and France is entitled to make a decision on the sale of a ship," he added.
If the French-Russian warship deal is concluded, it will mark the first time that a NATO country has sold military equipment to Russia.
The pride of the French Navy, the Mistral-class vessel can carry up to 16 attack helicopters, armored tanks, and 900 troops. In autumn last year, the warship docked in St Petersburg where Russian arms specialists had an opportunity to have a closer look at the state-of-the-art vessel.
The French-Russian Mistral deal has stirred up some low-level anxiety among some countries, most notably the Baltic States and Georgia, which claim the move could threaten European security.
Lithuania and Latvia have demanded stricter international regulations concerning arms trade.
"The EU and NATO should sell armaments and military hardware to countries that do not pose the risk of regional tensions," Latvian Defense Minister Imants Liegis said, as quoted by Itar- Tass. "Before concluding strategic deals, EU member countries should hold internal consultations on items that may call into question the security of other members."
Meanwhile, Georgia has requested that its "interests should be protected" if Russia buys the warships, as well as requesting NATO membership.
"Georgia cannot rival Russia in purchasing Mistrals and other modern military equipment, so the timely admission to NATO is a way out of the situation," Georgia's Deputy Prime Minister Temur Yakobashvii said. He added that Georgia should be "given the opportunity to acquire whatever is necessary for the country's defense".
Anders Fogh Rasmussen responded that he understands "very well the concerns raised by a number of allies".
"I think it is understandable taking into consideration history as well as recent events, but I take it for granted that Russia will not use or misuse such military equipment against any neighbor," the NATO chief said.
Meanwhile, against the background of these pronouncements, NATO has announced that it will hold military exercises involving fighter jets over Lithuania, Latvia and Estonia in March, marking the first in a series of military drills this year near the Russian border.
Russia has repeatedly spoken out against the alliance's eastward expansion, which Moscow sees as threat to the country's security. Prior to his visit to Paris, Medvedev once again spoke of the "never-ending enlargement of NATO through absorbing the countries that used to be part of the Soviet Union or happen to be our closest neighbors, such as Romania and Bulgaria."
In an interview with Paris Match, a French magazine, the Russian president underlined that "we are not sliding back to the Cold War, but we must take this new situation into consideration."
Natalia Makarova, RT
You can share this story on social media: