Estemirova's murderer known to authorities, says insider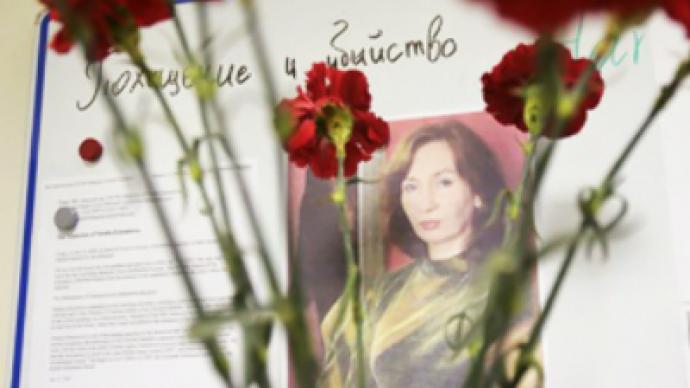 A source in the law enforcement services says the authorities know who killed Natalia Estemirova last summer: "The murder of Natalia Estemirova has been cleared up and investigators have established the killer."
Furthermore, now the investigators are tracking down the suspect and are also trying to find out who ordered the murder. However, so far there has been no official confirmation of this information.
The award-winning human rights activist, Natalia Estemirova, was kidnapped in the Chechen capital, Grozny, on 15th July, 2009. Later, her body was found in neighboring Ingushetia. The well-known campaigner was working for the Russian Independent Human Rights organization "Memorial" in Chechnya. She was also a close friend of the prominent Russian journalist Anna Politkovskaya, who was killed in 2006 outside her home in Moscow.
Both Politkovskaya and Estemirova were seeking to uncover alleged human rights abuses in the republic and were unabashed in their observations. In an interview with the BBC, when Estemirova was asked if she ever felt her life was in danger, the human rights activist admitted there were such moments, but her dedication to her work overrode those fears: "I try to be very exact about how I go about things and of course I do have worries about my family and people close to me, but I still have to do my job".
Estemirova's death prompted strong reaction both in Russia and abroad. After Estemirova's murder, the "Memorial" office in Chechnya ceased to exist. After that the activist's friends and colleagues pointed fingers at the current Chechen President Ramzan Kadyrov, accusing him of being allegedly connected with the murder.
Kadyrov, however, vigorously denied any such alleged connection: "Who is behind it? First of all, those who want to cast a shadow over the republic's leadership in particular, and Russia as a whole. The murder was of a demonstrative and provocative nature. The killers wanted to create a reaction and a wave of unrest and indignation in society. Unfortunately, it seems that those who are making the most noise about this murder are the ones who killed her."
Earlier, in an exclusive interview to RT, the Chechen president accused exiled tycoon Boris Berezovsky of masterminding it: "The murder of Natalia Estemirova was organized by those, who killed Anna Politkovskaya and [ex-agent of Russian FSB] Alexander Livtinenko. I am sure, this is Beresovsky's work".
In response, Berezovsky called Kadyrov's accusations "nonsense" and blamed the Chechen President for the murder.
During his meetings with the German Chancellor Angela Merkel earlier in the summer of 2009, Russian President Dmitry Medvedev called the accusations towards the Chechen President absurd and primitive. He strongly condemned the killing, vowing to take all necessary measures to uncover the murder, calling it a provocation: "I think that those who committed this crime were hoping that the most primitive and unacceptable accusations were voiced. This is a provocation and I am sure we will solve this murder, and those connected with it will be found and brought to justice according to Russian law."
Investigators say that by killing the human rights activist, the criminals were trying to destabilize the situation in the region and link it to Estemirova's professional activities.
Commenting on the news of the recent findings, the head of "Memorial", Oleg Orlov, expressed hope that the killer would be caught: "I hope that the murderer will be arrested, and that he will be the real killer of Estemirova. We also hope that the investigators will find out the name of the person who masterminded this crime."
Olga Masalkova, RT
You can share this story on social media: