Armenia and Azerbaijan receive Medvedev's proposals on Karabakh settlement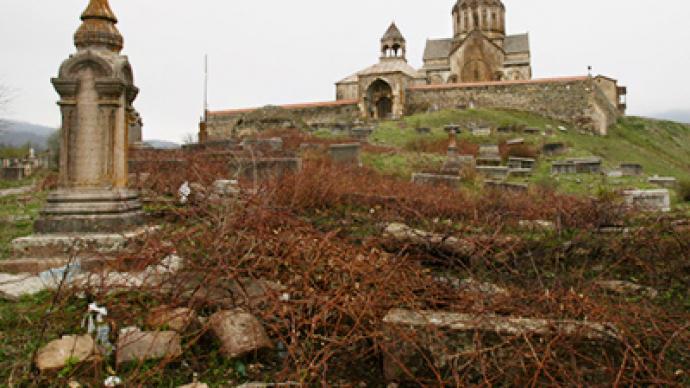 Russia's Foreign Minister Sergey Lavrov has passed President Dmitry Medvedev's proposals on a potential Nagorno-Karabakh settlement to the leaders of Armenia and Azerbaijan.
On Friday, Lavrov visited Yerevan and Baku to meet with the presidents of the former Soviet Republics – Serzh Sargsyan and Ilkham Aliyev –to personally deliver the Kremlin's proposals. Lavrov said that Russia hopes Armenia and Azerbaijan would respond to the ideas voiced in president Medvedev's personal message regarding a timely resolution to the conflict. The Foreign Minister underlined that the Russian leader was sincerely interested in a favorable outcome for the process and expressed confidence that all conditions for reaching a consensus exist, reports Itar-Tass. Sargsyan praised Medvedev's mediation efforts and confirmed that Armenia is interested in reaching a settlement in the conflict as soon as possible. "We wish for this problem to be resolved so as to ensure long-lasting peace and stability in our region," he said. Medvedev formulated his proposals following the June 24 trilateral summit in the city of Kazan, where Sargsyan and Liyev were attempting to work out the basic principles to the settlement in the long-running territorial dispute. The meeting brought no breakthrough, though the presidents stated that progress had been made on the path towards resolving the conflict over Nagorno-Karabakh. Russia, along with the US and France, is a co-chair of the OSCE Minsk Group, which has thus far attempted to negotiate a peaceful resolution to the conflict between Armenia and Azerbaijan over Nagorno-Karabakh.In 2009, Medvedev came up with an initiative to hold talks on behalf of the Minsk group with the presidents of the two republics so that an agreement on the basic principles of resolving the conflict could be worked out. The idea was met with support from all sides, as the three presidents have held nine rounds of talks since then.
You can share this story on social media: