Base instinct: Russia questions US Afghan overstay
Published time: 21 Nov, 2011 12:40
Edited time: 23 Nov, 2011 06:54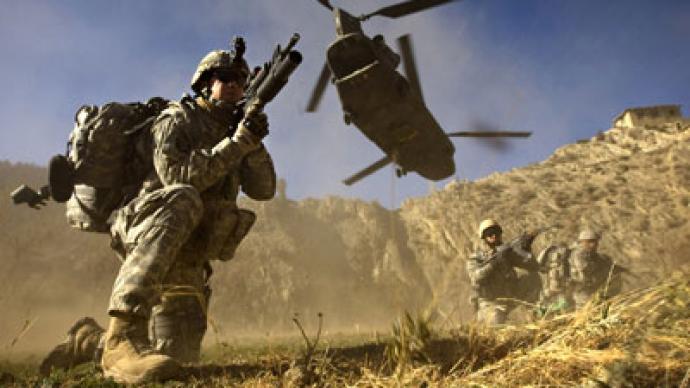 Moscow is looking for explanations from the US over its plans to maintain permanent military bases in Afghanistan after withdrawing troops from the country in 2014.
­While stressing that the creation of US military bases on Afghan territory is an "issue of relations between the US and Afghanistan," Russia wants to know what tasks will be accomplished by a permanent US military presence in the embattled country, Foreign Minister Sergey Lavrov told reporters on Monday following a meeting in Moscow with his Kazakh counterpart.

"For this reason, it is important to understand what tasks will be solved by the military bases in Afghanistan, which will stay there after the announced withdrawal of troops in 2014," Lavrov said.

Lavrov, who confirmed that Russia is "discussing these issues openly with Afghanistan and our
US partners," said it is important for Moscow understand "how the announced withdrawal of troops (scheduled for 2014) relates to the "creation of military bases."

The foreign minister said it was important to take into account the interest of all countries in the region.

"In a broader political sense, we also need to take into account the interests of the countries of this troubled region, which are directly impacted by what is happening in Afghanistan," Lavrov said.

Kazakh Foreign Minister Yerzhak Kazykhanov echoed Lavorv's concerns, saying that although the agreement between Afghanistan and the US on long-term and strategic cooperation is an issue of bilateral relations, it is paramount that any agreements signed in the region take into account the interests of neighboring countries, as well as the Central Asian countries.

"The countries of the region and large powers should re-confirm their adherence to the territorial integrity and sovereignty of Afghanistan. In my view, the main efforts should be aimed at prompt stabilization of the situation in the country and its economic rehabilitation," the minister said.

The Kazakh foreign minister recalled that a ministerial conference will be held in Bonn on December 5, which will be attended by representatives of over 65 countries at the level of foreign ministers, to discuss issues related to Afghanistan.

Kazykhanov said he is anticipating that the Bonn conference addressing the Afghanistan issue will promote the rapid stabilization of the situation in Afghanistan.

A "loya jirga" (elders' council) was held in Kabul on the weekend. The meeting participants approved the Afghan-US agreement on strategic cooperation, which authorizes the United States to have its military bases on the territory of Afghanistan until 2024.

Large-scale protests following the jirga's decision were held in Afghanistan on Monday.

Moscow is increasingly concerned about the situation in Afghanistan since the United States commenced military operations following the terrorist attacks of Sept, 11, 2001. Russia is concerned about stability in the region, especially since heroin shipments across Europe and in Russia have surged since the Taliban was removed from power.