Moscow to honor Russia-Crimea Union by renaming square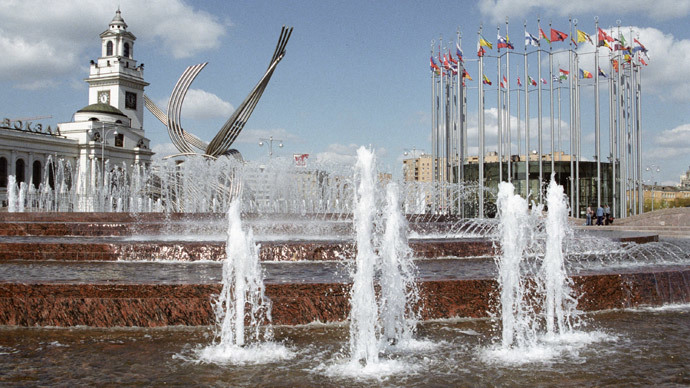 Communist deputies in the Moscow city legislature are proposing to rename of one of Moscow's squares after the reunion of Russia and Crimea, as federal legislators were preparing to ratify the union agreement.
One site deemed fit for renaming is the Square of Europe in the city center near the Kiev Train Station, the head of the Communist faction in the city Duma, Andrey Klychkov, told the Izvestia daily. He said there are other possible locations for the Russia-Crimea Reunion Square in the city, like the major crossroads near the Kiev Station or around the Simferopol Highway in the South of the city.
Klychkov emphasized that the idea to give a Moscow square a new name came up before the Crimea referendum and the subsequent union treaty with Russia. He said it was in response to the suggestion to rename Institute Street in Kiev after the "heavenly hundred" – the people killed in the Ukrainian capital in the later stages of the Maidan protests in January and February.
The politician promised that on Wednesday he will file an official renaming request to the mayor's office. He added that at the same time the Communist Party would start gathering signatures in support of this initiative which might prove useful in case the authorities object to the idea.
Such objections, however, do not seem likely at the moment as the head of the Moscow City Commission for Culture and Mass Communications fully supported the idea. "Crimea's reunion with Russia is an event worthy to be perpetuated in a square name. I myself have received similar suggestions from my voters – like restoring a ship berth on the Moscow River and naming it after Sevastopol," Yevgeny Gerasimov told reporters.
The head of the Dorogomilovo District where the Square of Europe and the Kiev Station are located also said that he thought the renaming was appropriate.
The Square of Europe was created in 2002 as a joint Russian-Belgian project dedicated to European unity. It is decorated with an installation of 48 poles bearing flags of the European nations and the Rape of Europa monument by Belgian sculptor Olivier Strebelle.
Moscow already has several streets and avenues bearing Crimea-related names, such as Simferopol Boulevard, Kerch Street or Sevastopol metro station. They are located in the South of the city, along the major avenue called Balaklava Prospect.