Moscow approves 50,000-strong opposition rally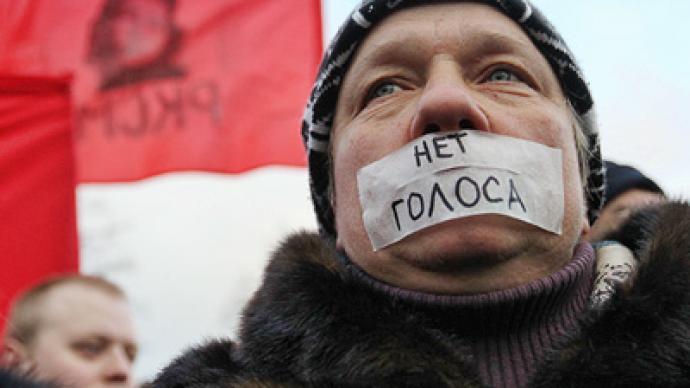 The Moscow Mayor's office has agreed with representatives of opposition movements that a 50-thousand-strong protest rally will take place in the center of the city on February 4.
Deputy mayor Aleksandr Gorbenko told the press on Thursday that authorities approved one of the possible routes suggested by the rally organizers – from Oktyabrskaya metro station along 8-lane Yakimanka Street, to Bolotnaya Square which is across the river from the Kremlin. The agreed time of the march is from midday to 3 pm. Traffic in this part of the center will be stopped for the duration of the rally.The official stressed that the agreed route was acceptable for the protesters and the authorities alike.At the talks on the upcoming march, the protesters were represented by Vladimir Ryzhkov, one of the leaders of the unregistered opposition party Parnas, Gennadiy Gudkov of the parliamentary opposition party Fair Russia, Sergey Udaltsov, leader of the Left Front movement, and Sergey Parkhomenko, publisher and civil activist. The talks were held Wednesday evening, reaching well into the night.Initially, the city authorities had insisted that the rally be moved to February 5, but the protesters insisted on February 4, which they see as a symbolic date – exactly one month ahead of the presidential poll, and two months after last year's parliamentary election.The opposition say they plan to voice the same demands as at last year's rallies on Bolotnaya Square and Sakharov Prospect: protest at violations in the parliamentary election, and a call to liberalize Russia's political life. Last year's rallies are reported to have gathered from 25 to 30 thousand participants.
You can share this story on social media: