Moldovan opposition sinks presidential election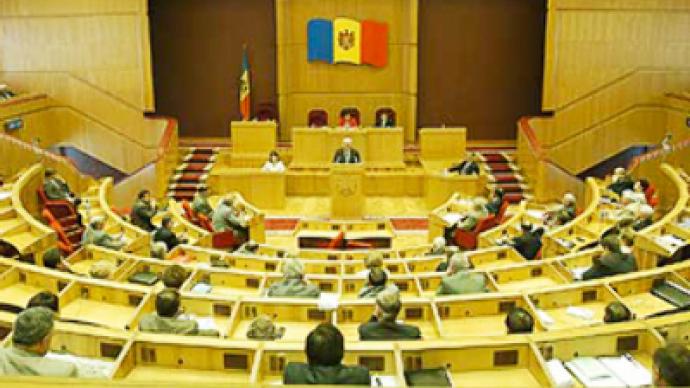 The parliament of Moldova failed to elect a president on Wednesday, due to opposition parties ignoring the poll.
Communists hold 60 out of 101 seats in the Moldovan parliament. At least 61 votes must be cast in favor of the candidate for him or her to be elected the country's president. However communists' chances of forming a coalition with one of the three opposition factions are bleak at best.
On Wednesday, all three parties told their members to ignore the parliament session, as their leaders told the media. The move effectively ruined the chances to elect a new president today. Earlier they accused the communists of trying to arm-twist individual opposition MPs into supporting main communist nominee and current Prime Minister Zinaida Grechanaya.
She seeks to replace the current Moldovan President Vladimir Voronin, who has had two presidential terms and cannot run for the post according to the constitution. In Wednesday's poll, she received 60 votes, which is still not enough.
Her only opponent is famous doctor and academician Stanislav Gropa, another communist nominee. A Moldovan constitutional court ruled that at least two candidates must be on the ballot for a presidential election to be valid.
The parliament will make one more attempt to elect a president on May 28. Communists are trying to sway the opposition by offering them the position of vice-speaker of the parliament and control over four out of five parliamentary commissions. If the second vote fails too, the parliament will be disbanded and a new parliamentary election will take place this summer.
"We'll push for early elections, which must provide equal conditions for all parties, in a correct way, and without threats. The present parliament has no legitimacy, since the voting was rigged," said the leader of the opposition Liberal Democratic Party Vlad Filat.
The previous election in April was marked by civil riots in the capital Chisinau, when crowds of mostly young people stormed the parliament and the building of the presidential administration. They were protesting against what they called rigged ballot. The government accused the opposition and foreign "agents of influence" of masterminding the violent events.
You can share this story on social media: