Moldova seeks NATO's help in Transdniester settlement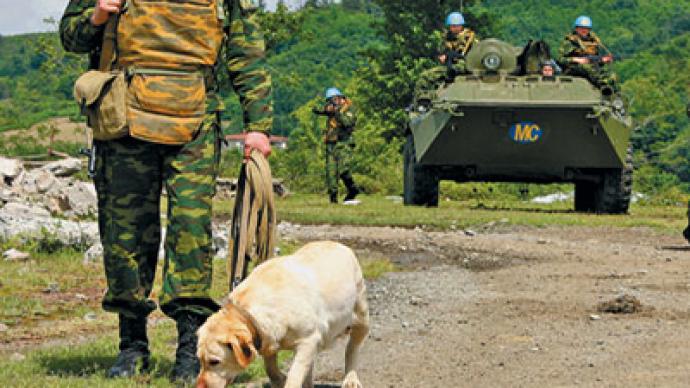 Moldova's acting president Mihai Ghimpu is relying on NATO's support over the issue of the withdrawal of Russian troops from the breakaway Transdniester region.
Ghimpu described the Russian troops based in the republic "as a source of tension" feeding "Transdnestrian separatism." The Transdniester Moldovan Republic with a predominantly Russia-speaking population has been de-facto independent since 1992. Chisinau is only ready to agree on the republic's autonomy. The talks on the region's future – which involved Russia, Ukraine, the OSCE, Moldova, Transdniester, and also the US and EU as observers – were frozen in 2006.Stability in the region is maintained by peacekeepers from Russia, Transdniester, Moldova and Ukraine. Russia also keeps a 1,500-troop contingent to guard stockpiles of Soviet-era weaponry. Half of the stockpiles were transferred from Transdniester to Russia by 2003. However, the process was stopped due to "political factors" regarding the conflict between Moldova and its breakaway republic.  Transdniester proclaimed its independence as a response to Chisinau's nationalist policies in 1990. Two years later, Moldova sent troops to the region, but the interference of Russian servicemen staged in the republic prevented a full-scale armed conflict.In a telegram sent to NATO Secretary General Anders Fogh Rasmussen last week, Ghimpu said that Russia "does not meet its commitments" as to the withdrawal of troops from the territory of Moldova. He also said on Friday that separatists in the region felt "moral and political support" from the Russian army, Itar-Tass news agency reported. Ghimpu's statement was characteristic of "his consistent anti-Russian policy and attempts to solve the Transdniester conflict through the use of force," said Tamara Guzenkova of the Russian Institute of Strategic Studies.However, there should be no expectation that the alliance will "immediately exert pressure on Russia," the analyst told Regnum news agency. The current NATO-Russia relations do not make it possible for the alliance to "show Russia, more so at Ghimpu's instigation, what Moscow should do over the Transdniester issue," she stressed. It is also clear that Moldova's acting president is trying to determine his policies and to direct them "to Euro-Atlantic vector in the context of closer relations with Romania," Guzenkova said.    Earlier the Russian Foreign Ministry's official spokesman Andrey Nesterenko said that Moscow's military presence in the region fully conformed to the status of Russia as a guarantor country in the Transdniester settlement.   
Sergey Borisov, RT
You can share this story on social media: