Moldova torn between East and West seeks to end stalemate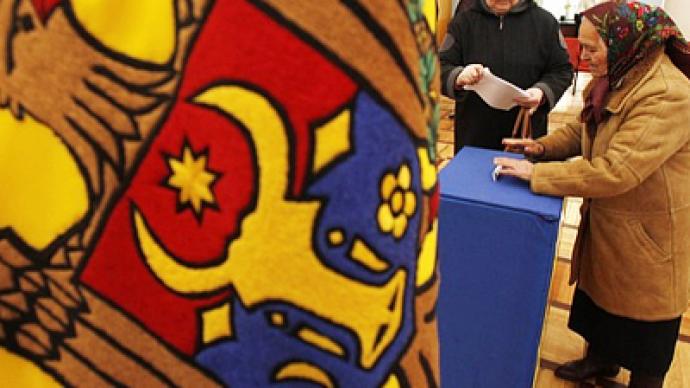 Communists are leading in Moldova's third parliamentary election in two years which is yet another attempt to break a political stalemate that has kept the former Soviet republic with only an interim president for over a year.
With over 90 per cent of the ballots counted, the opposition Communist party led by Former President Vladimir Voronin has gained 41.2 % of the votes, which means the faction can get 44 out of the 101 seats in the republic's parliament.The Communists are followed by three liberal-leaning factions which make up the ruling Alliance for European Integration. The Liberal Democratic Party got 28 % of the vote, the Democratic Party secured 13.2 per cent and the Liberal Party – 8.8%, according to Moldovan news agency Moldpress.The final results are yet to be announced, but the alliance may secure up to 57 seats in the parliament.The country has been in political deadlock for 18 months.Fierce opponents, the Communists and Prime Minister Vlad Filat's pro-western coalition, failed to reach any compromise and pick a new head of state. Under Moldova's constitution, MPs elect the president and if no candidate gets the required 61 votes in two rounds of voting, the parliament is dissolved and an early parliamentary election is called.Both attempts – on October 23, 2009 and on December 7, 2009 – failed. On September 21, the country's Constitutional Court ruled that the parliament was to be disbanded. The pro-Europe coalition came to power in July 2009 following eight years of Communist rule. In April 2009, after the Communists gained victory in the parliamentary poll, the opposition accused them of rigging the vote. That was despite the fact that the Central Election Committee confirmed the results, and international observers declared the elections were fair.Thousands of Moldovans took to the streets of the capital Chisinau. The protest rally turned violent and the crowd stormed the presidential palace and parliament, burning and damaging everything on their way. Days of unrest resulted in hundreds or people injured. In July 2009, a second election was held bringing the opposition to power.After ex-President and Communist leader Vladimir Voronin's resignation in September last year, the Parliamentary Speaker and Head of the Liberal Party Mihai Ghimpu has remained acting president.
You can share this story on social media: