Moscow wants justice for Mladic, doubts Serbia's EU prospects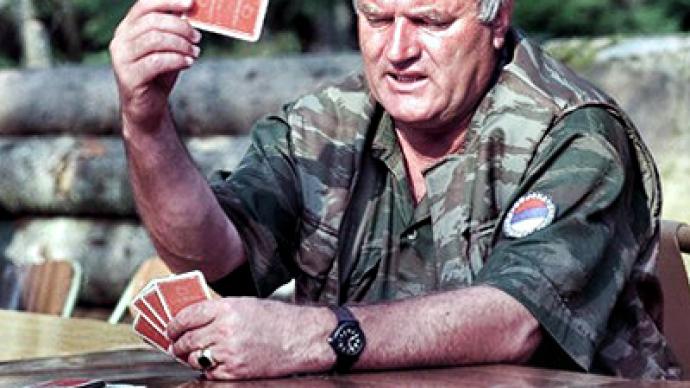 The Russian Foreign Ministry demands that the trial for former Bosnian Serb general Ratko Mladic be just and objective.
The future trial over Mladic should not deliberately be used to drag their feet over matters concerning the international tribunal concerning the former Yugoslavia, the ministry stressed on Friday. Mladic, who served as the chief-of-staff of the Army of the Republika of Srpska during the 1992–1995 Bosnian war, is suspected of war crimes.  He was arrested in Serbia on Thursday. Many Serbians consider him to be a hero, while Muslims in Bosnia accuse him of ethnic cleansing, genocide and terror against civilians. According to Serbian President Boris Tadic, the arrest "proves the country's adherence to the supremacy of law." Belgrade believes the extradition of Mladic to the Netherlands, where he will be tried by the International Criminal Tribunal for the former Yugoslavia (ICTY), may facilitate Serbia's entrance to the EU. But Russian politicians have expressed serious doubts about the betterment of Belgrade's EU prospects following Mladic's detention. Serbian authorities may face "a definite disappointment" in their attempts to speed up their entry into the European Union, believes Konstantin Kosachev, the chairman of the State Duma's International Affairs committee.  The arrest of Mladic removes one of the main obstacles for Serbia's rapprochement with the EU. But Kosachev assumed that the Mladic case had been used by Europeans as a pretense "to not foster the chances of Serbia's entry." The EU is already facing major developmental difficulties in its present form as it is, the MP told Itar-Tass. It was no accident that Mladic was arrested during the G8 summit, said Mikhail Margelov, head of the Federation Council's Foreign Affairs Committee. The Serbian leadership might have tried to manufacture a convenient moment to demonstrate its loyalty before the ICTY and the European Union, he said.It is also hard to say if Mladic was really so elusive for all of those years, Margelov noted, adding that the general lived 80 km from Belgrade, "without camouflage or make-up."      At the same time, the EU is unlikely to expedite Belgrade's admission to the union. So far, Brussels has failed to properly integrate new member states, the MP added. Meanwhile, unknown assailants threw black paint at the Serbian embassy in Moscow last night. The information about the attack and photos were published on the website for the Strategy 31 initiative, led by Eduard Limonov, leader of the Other Russia movement. The website explained that those who committed the attack on the embassy "were expressing their protest" against the arrest of Mladic and the intention to hand him over to the tribunal in The Hague.
You can share this story on social media: