'We will join missile defense or render it useless' - Medvedev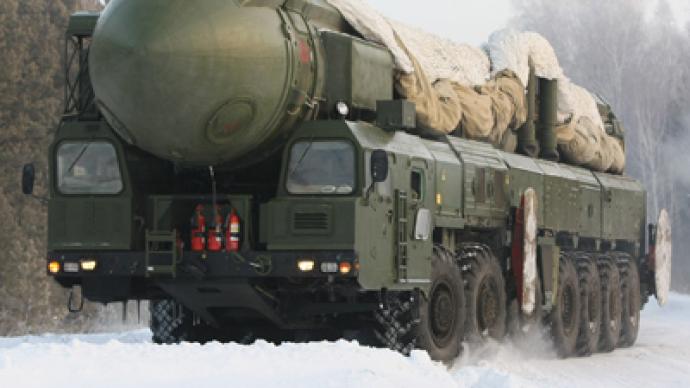 Russia will not counter the proposed US-European missile defense shield if offered a role in its implementation, President Dmitry Medvedev said at the meeting with the missile forces' commanders.
"This does not mean a confrontation, this means only one thing – we cannot remain indifferent to their plans because they touch upon our strategic interests, this is why I had to make this statement," Medvedev told the military referring to his address to the Federal Assembly in which he for the first time announced the plans to counter the proposed missile defense shield.The president added that the plans can be reversed only on condition that Russia is offered some scheme of joint participation in an anti-missile system.Medvedev also rejected the suggestions that the statement was excessively harsh."This was not a harsh statement because it lists all real circumstances that forced me, as the Supreme Commander, to make the corresponding decisions, and those reply measures that will be put into life. They are being fulfilled right now, you know about them and they will be carried out to the end, just like the figure on rearming the strategic missile forces, they will be rearmed 100 per cent by 2020, have no doubt. Everything is repaid in full so that everything is prepared and delivered to the troops," Medvedev announced to the commanders. "When we signed an agreement on limitations to the strategic offensive forces, we were basing it on the notion that we were in a certain parity, give or take. We understand that the missile defense is in essence an extension of the strategic missile force, though by different means and in essence it is an attempt to destroy this balance," Medvedev stated. The Russian president reiterated the thesis that Russia is going to take steps that will be difficult and costly, but still affordable, to balance the missile defense initiative. "But if they abandon their plans, our colleagues will have demonstrated flexibility on this issue in some cases. We will also demonstrate flexibility in return," Medvedev assured.But if the US and European countries persist in their plans to develop and build the missile defense system, Russia will act in response, Medvedev stressed. "I want to underline it once again, this is not some sort of Russian militarism or Cold War relic, this is simply a sober analysis and we cannot act any other way," the president noted.
You can share this story on social media: