A million a day: Leftist protester seeks compensation for unlawful arrest
Published time: 11 Jul, 2012 11:00
Edited time: 11 Jul, 2012 15:00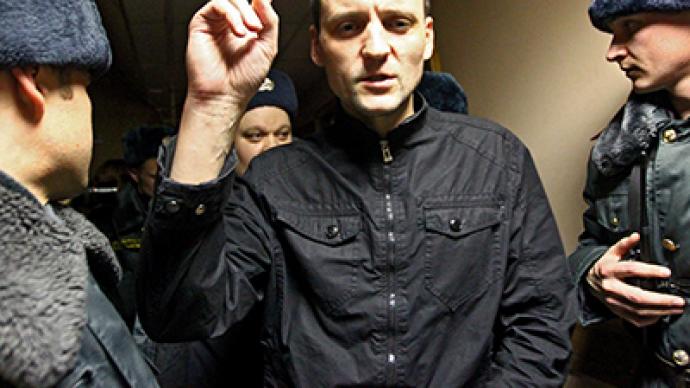 The head of the unregistered opposition movement Leftist Front says he wants to sue the authorities over damages he suffered from his unlawful arrest, demanding one million rubles for every day he spent in custody.
Sergey Udaltsov wrote on his Twitter microblog that he had received the Supreme Court ruling that recognized as unlawful the opposition figure's 10-day administrative arrest in December 2011. He added that he wanted to demand 10 million rubles (about US$300,000) from the state – one million for each day he spent in the detention center.
"I was kept in custody unlawfully and that caused me suffering, both physical – I went on a hunger strike to demonstrate my disagreement with the court decision – and moral, as well as legal expenses. My defense team was not working on pure enthusiasm, it all costs money. I will prepare a lawsuit against the state – the Interior Ministry's Directorate for Moscow City, the Finance Ministry. I will sue them for one million rubles for every day of illegal arrest. This will be fair," Udaltsov told the press.
Udaltsov was detained three times in December when thousands of people took to the streets in Moscow protesting against alleged violations at the parliamentary elections.
The Supreme Court decision must be about the December 25 arrest over a single-man picket near the Central Elections Commission HQ. Udaltsov was sentenced for failure to comply the orders of police, but appealed the decision and demonstrated a video record that showed that he had followed all police orders during his detention.
The Leftist Front is an unregistered political organization uniting several radical leftist movements that support the return to Socialism and Communism, as well as the restoration of the Soviet Union. Udaltsov himself has previously estimated the number of his supporters at 10,000 to 12,000 people.