Russia and Ukraine revive war games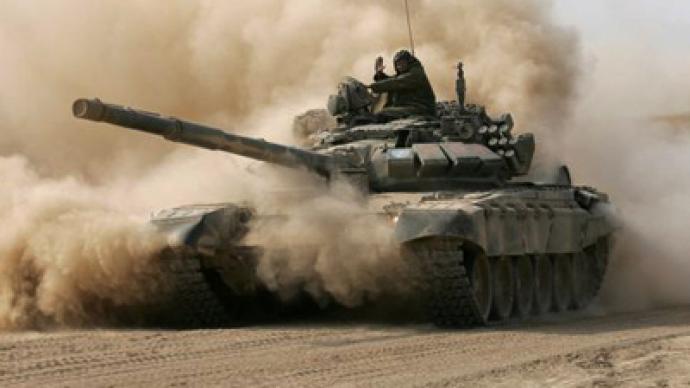 Ukraine and Russia are set to resume joint military exercises, Ukrainian Defense Minister Mikhail Yezhel has said.
According to the minister, co-operation between the two states has deepened and improved."We have revived exercises and programs that were temporarily suspended due to various reasons," Yezhel said in an interview with Interfax agency. Among them, for instance, is a Ukrainian-Russian naval exercise entitled "Farvater Mira" (Fairway to peace) which was last held before the Orange Revolution, in 2003. Now, after the power in Ukraine has changed hands and relations between the neighboring states have improved, the two sides are not only going to revive the tradition, but also to expand the scale of the maneuvers. "We want to make them quite substantial, including tasks such as putting forces on high alert and sending them to a designated area, anti-submarine, anti-assault and air defense operations, vessel convoys and landing operations," Yezhel said. Next year the two states' military forces are planning to hold three exercises: the Fairway of Peace on the Black Sea, air defense forces drills and exercises involving motorized units, with Belarus also participating. In addition, Moscow invited Kiev to practice together air defense operations at the Ashuluk Training range in the Astrakhan region.All in all, Ukraine's armed forces will take part in 21 drills in 2011, with nine to be held outside the country.After taking office in the beginning of 2010, Ukraine's President Viktor Yanukovich dropped the previous administration's plan to seek NATO membership. His predecessor Viktor Yushchenko's dream of joining the alliance was one of the thorniest issues in the relations between the two former Soviet republics. In July, Yanukovich signed a decree declaring that the country would remain non-aligned to any political-military unions but would still continue co-operation with NATO, as well as other blocs, based upon common interests.Abandoning the NATO membership idea as well as signing the Agreement to extend the Russia's Black Sea Fleet's presence in Crimea after 2017 for another 25 years made relations between Moscow and Kiev much more favorable.In his interview with Interfax, Ukraine's Minister of Defense has reiterated Kiev's stance and said that the format of its co-operation with the North-Atlantic alliance has not changed."The previous format of co-operation with NATO remains the same. Ukrainian President, the Supreme Commander-in-Chief of the Ukrainian Armed Forces, has several times stated that Ukraine will fulfill the international obligations that it took on before. This means that Ukraine is a predictable state and a reliable partner," Yezhel stated.According to Yezhel, Ukraine-NATO co-operation serves three main purposes: support for the development of the country's military forces, the provision of stability and security in the state, and readiness to participate in this process – and the resultant development of mutual compatibility.
You can share this story on social media: