Medvedev occupies Putin's chair in United Russia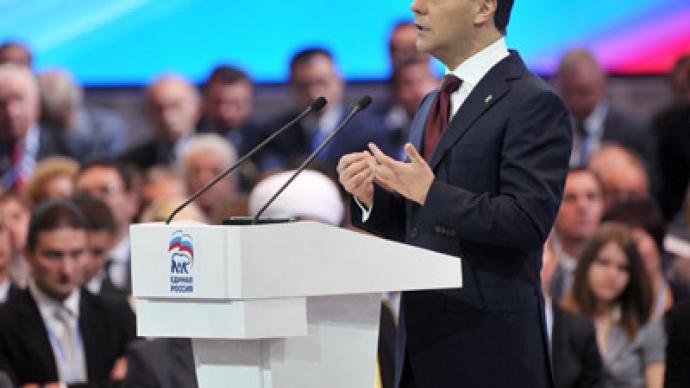 Vladimir Putin and Dmitry Medvedev have changed places again. This time the job swap concerns United Russia as Medvedev has been elected the party leader at the congress in Moscow on Saturday.
United Russia party members have voted for the candidacy of Dmitry Medvedev that was suggested by its former leader Vladimir Putin a few weeks ago. Speaking to the congress members, the outgoing leader named the party his "key ally and partner" and called on United Russia to be more transparent and democratic. This is another important post for Medvedev who was appointed prime minister on 8 May. His political career now follows Vladimir Putin's footsteps: when Medvedev was elected president in 2008, Putin became prime-minister and United Russia leader. Ahead of the vote, Medvedev, who was the only nominee for the post, encouraged the audience to win the constitutional majority at the 2016 election.December's parliamentary poll revealed a sharp decline in the party's popularity and brought its support to slightly over 49 per cent.  Still the majority party in the State Duma, it has lost the ability to make changes to the constitution without approval from other Duma parties.   Medvedev said the party has to become more "creative" and inform citizens about its work. He added that it should not to be a "standard voting machine" in the eyes of the electorate. Medvedev believes United Russia should get rid of those who discredit it and encouraged the party not to be afraid of public debate with the opposition. He also insists that all top party functionaries should not be appointed but elected out of several contenders through a ballot. Putin headed the party from 2008 although he didn't become a party member. Although the constitution does allow the president to be a member of a political party, Putin said he believes the president is a "consolidating" figure for all political forces and citizens of the country and therefore quit from the post of party leader. United Russia introduced the role of party leader in 2008. Putin was the first and so far, the only person to hold this position.