Medvedev orders to seize or destroy organizers of Vladikavkaz attack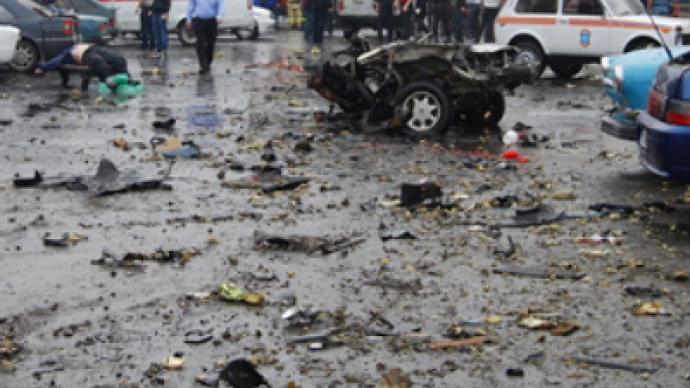 The Russian leadership has pledged to punish the terrorists that organized a car bomb attack in Vladikavkaz as first measures are being taken to help people and investigate the crime.
According to North Ossetia's head Taimuraz Mamsurov, 15 people were killed and 90 injured in the suicide bomber's attack near the central market of the southern city of Vladikavkaz on Thursday. The bomb's force was equivalent to 40kg of TNT, the Investigative Committee under the Prosecutor General's Office said.
President Dmitry Medvedev ordered to take all possible measures to help those injured in the blast. He also discussed the matter with Mamsurov and director of the Federal Security Service (FSB) Aleksandr Bortnikov.
"The state will do everything to find the organizers of the terrorist act in Vladikavkaz and punish them according to the law," Medvedev said. "If they resist they will be destroyed," he added.
Prime Minister Vladimir Putin condemned Thursday morning's attack, saying it was "aimed at sowing enmity" between Russian citizens. "We have no right to allow this," he said during a meeting with Ravil Gainutdin, chairman of the Union of Muftis of Russia.
Putin stressed Russia's Muslim population should make a decisive contribution to combating extremism. "I know how Muslims treat such extremists," he was quoted by Interfax as saying. "We feel their support, especially in the North Caucasus region, and are grateful for it," he said. "I expect that we will overcome all these difficulties together."
The crime was committed on Uraza Bairam, the holy day for the Muslims ending Ramadan, associated with peace and accord, the premier noted. He described those who did it as "soulless and heartless" people who have "nothing sacred. Our common duty is to fight these crimes and these criminals," he stressed.
North Ossetia's head believes that the extremists "tried to destabilize the situation in the region and to cause panic." But they did not achieve their goal, "as the situation in the republic and in Vladikavkaz is under the full control of the authorities," Mamsurov told Itar-Tass.
The presidential envoy, Aleksandr Khloponin, and Investigative Committee Chief Aleksandr Bastrykin flew to Vladikavkaz on Thursday.
Following the Vladikavkaz attack, Moscow police have bolstered security in the Russian capital. Interfax quoted Moscow police spokeswoman Zhanna Ozhimina as saying that officers were ordered "to concentrate on instructions issued by the Interior Ministry and the National Anti-Terror Committee."
Sergey Borisov, RT
You can share this story on social media: