Medvedev welcomes ratification of arms reduction treaty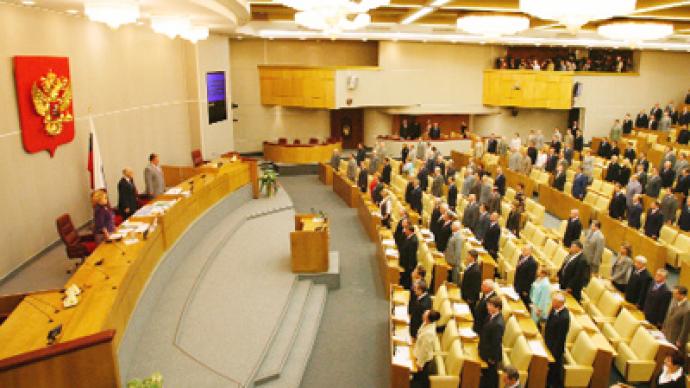 President Dmitry Medvedev has welcomed the ratification of the new START treaty in Washington. The Russian parliament is expected to approve the deal after analyzing the conditions the US Senate has set.
Medvedev was "satisfied" to learn that the US Senate ratified the agreement on offensive arms reduction, the president's press secretary Natalia Timakova said on Thursday. Both houses of parliament, the State Duma and Federation Council will consider this issue and also ratify the treaty, Medvedev believes.The new START envisions the nuclear arsenals of Moscow and Washington being cut by approximately one-third. The previous agreement on strategic arms reduction expired in December 2009.The Senate ratified the new strategic arms reduction treaty by a 71-26 vote on Wednesday evening. The great number of senators voting for the ratification shows that relations between the two countries are improving, the press secretary said.The Russian and US presidents agreed at the very beginning that the ratification process would be synchronized, Timakova noted. But she stressed the Russian parliament might take time to analyze the conditions on which the treaty was ratified in the US.Russian Foreign Minister Sergey Lavrov also welcomed the results of the vote in the US Senate. This decision is in line with the agreements between the two presidents, he said.However, Lavrov earlier pointed out that the bilateral relations do not directly depend on the treaty's ratification. He told Interfax that there were many sides to the countries' cooperation. The minister also stressed that the arms reduction agreement could not be amended. The document cannot be reopened and negotiated again, he noted.The Federation Council is ready to consider the document as soon as the State Duma approves it, Mikhail Margelov, Chairman of the Federation Council Foreign Affairs Committee, said.But Leonid Slutsky, deputy chairman of the Duma's Foreign Affairs Committee, said deputies should thoroughly analyze the conditions set by US senators. The issue concerns Russia's national security, he said.
"New START is good news" – read Fyodor Lukyanov's column
You can share this story on social media: