Medvedev seeks shield to thwart terrorist provocations in Sochi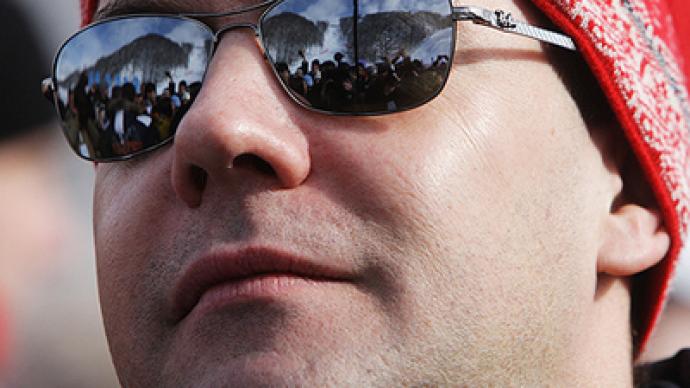 Speaking at the Security Council meeting in Sochi, President Dmitry Medvedev said that any possible provocations aimed at hampering the 2014 Olympics and its security must be prevented.
"Forces that seek to obstruct the Olympic Games should be exposed  by us in  a certain  way  and should  be brought  to  justice if  they  are citizens of our country," Medvedev  demanded. "You now quite well that there are also certain problems related to our neighbor, Georgia. That is why the Foreign Ministry, law enforcement agencies and security services should take all necessary steps," he said, adding that "a shield in the way of any provocations should be placed." Relations between Moscow and Tbilisi dramatically deteriorated in August 2008, when Georgia launched an attack on South Ossetia. Russia stepped in to protect its citizens. Medvedev also said that in January 2012 a special control center responsible for ensuring the Olympics security will start work. "Its staff will be given significant powers for coordinating activities of federal and local government bodies with anti-terror commissions, including the National Anti-Terror Commission and the anti-terror commission of the Krasnodar region," the president explained.He added that the Olympics are always a complicated event in terms of security, but all modern security standards should be used in Sochi.On Friday, President Dmitry Medvedev and Prime Minister Vladimir Putin visited one of the Olympic sites at Krasnaya Polyana in Sochi. They attended the European Cup Alpine Skiing competitions, at the Roza Khutor Alpine Ski Resort, and both leaders went for some downhill skiing themselves.
You can share this story on social media: