Medvedev pledges Russian help in wake of Iran's terror strike
Published time: 19 Oct, 2009 15:00
Edited time: 20 Oct, 2009 16:04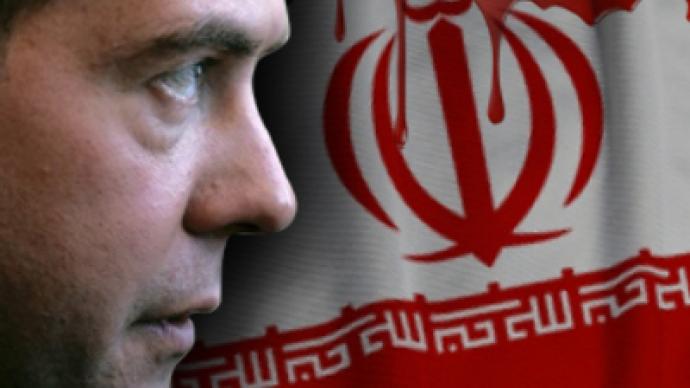 Moscow, European Union send condolences to Tehran after a suicide blast kills dozens, including five senior members of the Revolutionary Guard.
Iran has begun three days of mourning following a deadly suicide attack in the province of Sistan-Baluchestan that killed at least 42 and wounded 30 others, state-run Press TV reported.
The attack threatens to throw the volatile Pishin district near the Pakistani border into sectarian strife, as well as disrupt ongoing talks in Vienna between the International Atomic Energy Agency (IAEA) and Iranian officials.
Negotiators hope the talks will produce an agreement to curb Tehran's nuclear ambitions, a resource the Islamic Republic says it needs for its domestic energy program. Other countries, including most notably the United States and Israel, suspect Iran of attempting to create nuclear weapons.
At 8 a.m. Sunday, the suicide bomber detonated an explosive belt pack just as representatives of the Guards were entering a sports complex for a meeting with tribal leaders to discuss Sunni-Shiite cooperation in a region plagued with tribal infighting, arms smuggling, and drug trafficking from Afghanistan.
Iranian authorities confirmed that among the dead were five senior officers of Iran's elite Revolutionary Guard, including General Noor Ali Shooshtari, deputy commander of the Guard's ground forces, and Rajab Ali Mohammadzadeh, a provincial Guard commander.
Iran points finger… everywhere
Speaking at an emergency cabinet meeting on Sunday, Iranian President Mahmoud Ahmadinejad directed his ire at his Pakistani counterpart, President Asif Ali Zardari, arguing the "main elements" of the attack escaped into bordering Pakistan and "they should hand those perpetrators over to us."
"I ask the Pakistani government not to delay handing the main elements of this crime to us anymore," Ahmadinejad said. "The perpetrators that have gone to Pakistan and we are aware that unfortunately some Pakistani agents cooperate with them."
According to a statement from the president's office, Zardari telephoned Ahmadinejad to condemn the attacks, which the Pakistani president described as "gruesome and barbaric" and bore the prints of a "cowardly enemy on the run."
Iran's Revolutionary Guard (formally known as the Army of the Guardians of the Islamic Revolution) is an elite corps of 120,000 troops founded after the Iranian Revolution of 1979, a mass event that was responsible for overthrowing Iran's monarchy Under Shah Mohammad Reza Pahlavi.
The Guards is a combined military structure with its own ground forces, navy, air force, intelligence unit and special forces.
They are also responsible for patrolling Iran's borders.
The chief prosecutor in Sistan-Baluchestan, Mohammad Morziah, said that Jundullah, or Soldiers of God, a Sunni militant group, had claimed responsibility for Sunday's attack.
In May, Jundullah claimed responsibility for an explosion that hit a Shiite mosque in the southeastern city of Zahedan, killing 25 worshippers.
At the same time, General Mohammad Ali Jafari of the Guards blamed US, British and Pakistani intelligence services for the attack.
"New evidence has been obtained proving the link between yesterday's terrorist attack and
the US, British and Pakistani intelligence services," state-run Press TV quoted Jafari as saying.
A leading Iranian politician supported the accusation.
"We consider this recent terrorist act," said Iranian parliament speaker Ali Larijani, "to be the result of U.S. actions and this is a sign of their enmity."
A U.S. State Department spokesman said the accusation was "completely false."
"We condemn this act of terrorism and mourn the loss of innocent lives," Ian Kelly told CNN. "Reports of alleged U.S. involvement are completely false."
Russia responds
Russian President Dmitry Medvedev has extended his condolences to Iranian President Mahmoud Ahmadinejad, Russia's presidential press service reported on Monday.
"I was outraged to learn about the terrorist acts committed near the city of Zahedan, which killed dozens of Iranian military men and civilians. I condemn this act of extremism and am confident that its organizers and perpetrators will be found and punished," Medvedev said in his statement to the Iranian leader.
The Russian president then declared his willingness to cooperate with Iran on fighting terrorism.
"We believe that the fight against extremist threats, no matter where they come from, requires all countries to unite their efforts," Medvedev's statement reads. "We are ready to work together with the Islamic Republic of Iran to combat these threats."
Medvedev's declaration of support will probably draw more than one raised eyebrow in the West, especially the United States, where Iran has been declared a de facto terrorist state. U.S. President Barack Obama, however, using a radically different tact from his predecessor, George W. Bush, has declared his willingness to "sit down and talk" with Ahmadinejad.
Russia, which has more on-the-ground experience in Iran than many other countries have, has taken a much more cool-headed approach to dealing with Ahmadinejad and his occasional rants.
In early September, Russian Prime Minister Vladimir Putin warned against military action targeting Iran or imposing new sanctions to halt its nuclear program.
Putin said any attack on Iran would be "very dangerous, unacceptable" and would lead to "an explosion of terrorism."
Although Washington has taken a more diplomatic approach to handling Iran, its staunch ally, Israel, remains committed to its words that "all the options are on the table," including a military response, if "crippling sanctions" are not imposed on the Islamic country.
Bad timing
Of course there is never a good time for a terrorist attack to occur, but Sunday's outrage in southeastern Iran was such bad timing that it actually opens the door wide to any number of potential suspects.
First, it seems very strange that Jundullah, a militant group that "fights for the rights of Sunnis in Iran," would seek to sabotage a meeting between Shiite, Sunni and the Revolutionary Guards that had every possibility of advancing the rights of the Sunnis in the region.
Such a barbaric attack will do nothing positive for Sunnis in the region, except to throw them into possible sectarian violence and deeper poverty – a desperate situation similar to what plagued Iraq following the U.S. invasion in 2003 when the Ba'ath was purged from power and sectarian strife suddenly ran rampant across the country.
Second, it also suggests "foul play" that the attack would occur just as Iran had agreed to sit down and discuss its nuclear program with the global community. Now hopes for Monday's meeting in Vienna between Iran, the IAEA and European diplomats will be thrown into a cloud of distrust, doubt and possible despair, a scenario that may sit well with those nations that have expressed little hope for dialogue with the Iranian regime.
Finally, Ahmadinejad's hold on power has been greatly weakened in the wake of June's presidential elections, which saw thousands of Iranians taking to the streets to demonstrate their outrage over what they believed to be a rigged voting process. The last thing Ahmadinejad needs now is more pressure from inside his country.
And if the Revolutionary Guard ever loses faith in Ahmadinejad's leadership – and by extension, the faith of the Supreme Leader of Iran, Ayatollah Ali Khameini, who ranks as the highest political and religious figure in the Islamic nation – then things could turn very badly for Mahmoud Ahmadinejad very quickly.