Medvedev, Obama discuss New START treaty ratification by phone
Presidents Dmitry Medvedev and Barack Obama discussed the ratification of new strategic offensive arms reduction treaty over the telephone on Thursday night.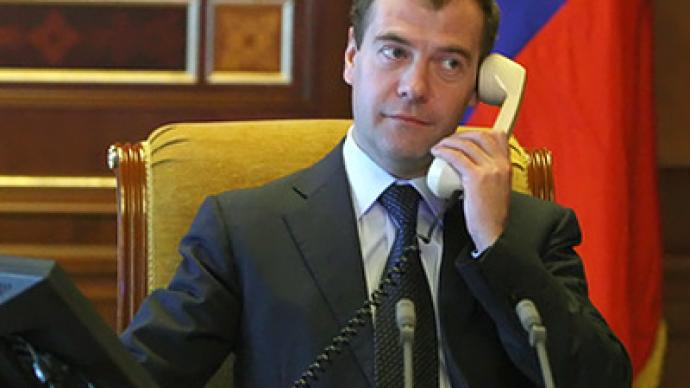 They agreed that the agreement's ratification by the US Senate would consolidate the results of joint efforts "to build a constructive and mutually respectful partnership." Both Medvedev and Obama assessed the co-operation over the current year highly, the Russian president's press service said. They also discussed international affairs and agreed to continue regular contact. The two leaders exchanged best wishes for the holiday season.  The US Senate on Wednesday ratified the new strategic arms reduction treaty by a 71-26 vote. Medvedev believes the great number of votes in favor of the agreement shows Russia-US relations "are improving." On Friday, the State Duma, Russia's parliamentary lower house, is considering the law on the New START treaty's ratification in the first reading.At the same time, some deputies stressed the need to closely consider "conditions" set by the US senators during the ratification. Vladimir Zhirinovsky, the leader of the Liberal Democratic Party, said that the treaty would "weaken" Russia's security. Moscow should have more missile to be able to "overcome" any missile defense shield if need be, he noted. According to the politician, two factions in Duma – the ruling United Russia Party and the Fair Russia – would vote for the ratification. The Liberal Democrats and the Communists will likely oppose the ratification, he noted.
You can share this story on social media: