Medvedev and Obama meet on sidelines of APEC Summit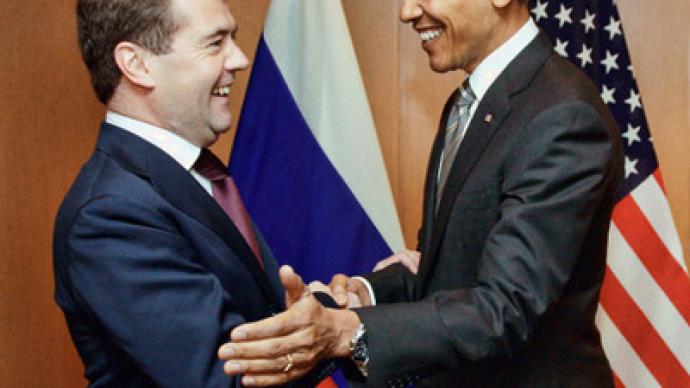 Gearing up for next week's major NATO Summit, which the Russian president is due to attend, the US and Russia seem optimistic over the possibility of a reset in their relations.
Speaking in the Japanese city of Yokohama, where APEC members are meeting for two days of talks, US President Barack Obama reassured his Russian counterpart that – despite the US Democrat's thrashing in midterm congressional elections – his administration was still committed to ratifying the new Strategic Arms Reduction Treaty (New START)."I reiterated my commitment to get the START Treaty done during the lame duck session, and I've communicated to Congress that it is a top priority," Obama told reporters following a discussion between the American and Russian delegates.The US Democrats lost control of the House of Representatives, while losing six seats in the Senate during midterm elections. The Republicans now smell blood and are looking to inflict a devastating political injury against Obama, even if it means jeopardizing START. Obama and his Democratic congressional now need to ratify New START during the "lame duck" session of Congress before the new congressional members – some of them comprised of Tea Party ideologues – take their seats in January [a "lame duck" session refers to a Congress that assembles after its successor has been elected, but before the successor's term begins]New START, which calls for slashing nuclear missile arsenals by 30 per cent on both sides, was signed on April 8, 2010 by the American and Russian presidents.The US-Russian discussion then moved to the question of a US missile defense shield in Eastern Europe, a project begun under former US president George W. Bush and amended by Obama. Russia has stated its opposition to the system, arguing that it poses a threat to its national security.Russian President Dmitry Medvedev, after acknowledging that Russian-NATO relations were improving, said that discussions on the missile defense shield would have to wait until next week's NATO Summit."We believe that Russia and NATO relations have improved and this is beneficial for all sides," the Russian president said. "Presently, we are working on a number of issues, including the so-called European anti-missile shield. We've exchanged ideas as to what could be done on this matter, and we'll discuss this at the summit."Medvedev added that both sides have been working together in a productive way and "we'll continue to do so."The Russian president then paid compliments to his American counterpart for promoting Russia's long-awaited accession into the World Trade Organization (WTO)."Recently, we've made serious progress in terms of Russia's accession into the WTO," Medvedev announced. "This is an achievement by the American president and his team, who lived up to all of our agreements reached during my visit to Washington."  Medvedev added that he hoped the "process will continue and Russia will soon gain access to the WTO."Meanwhile, APEC leaders announced that "trade and investment liberalization" was high on the agenda of their two-day meeting, which requires them to strengthen and intensify regional economic integration.The Yokohama declaration says APEC is on track toward achieving these goals, but more work needs to be done.For President Obama, the APEC summit was the final stop on a hectic four-nation Asia trip that also took him to India and Indonesia, as well as the G20 summit in Seoul.Meanwhile, President Medvedev, referring to a brief stopover he made to the Kuril Islands that attracted the ire of Japan, urged Japanese Prime Minister Naoto Kan on the sidelines of the APEC summit to stop diplomatic gesturing, Russia's foreign minister said."Our president said that it is better to abandon emotional statements and diplomatic gestures because they do not help," Russian Foreign Minister Sergey Lavrov said at a briefing in Tokyo, Asia One News reported. "Instead, he [Medvedev] proposed to change the approach [to the standoff] and prioritize the economy."Kan, he added, expressed Japan's regret at Medvedev's visit to the islands earlier this month. Because of the failure to settle the island standoff, Japan and Russia have still not signed a formal World War II peace treaty. The Kuril Islands are comprised of four islands – Iturup, Kunashir, Shikotan and Habomai Rocks – that were captured by the Soviet Army in the final moments of World War II. Japan is demanding that Russia returns the island group, while Russia says they were never Japan's territories to begin with.Medvedev, who was en route to Moscow following a summit in Vietnam, spent about four hours touring the island of Kunashir, taking photographs, meeting with locals and paying a visit to a geothermal energy station before flying off again.In the course of the APEC Summit, however, President Medvedev extended an invitation for the Japanese leader to visit Russia – "an offer he accepted," Lavrov added.
Robert Bridge, RT