Medvedev predicts brilliant future for Russia-Kazakhstan relations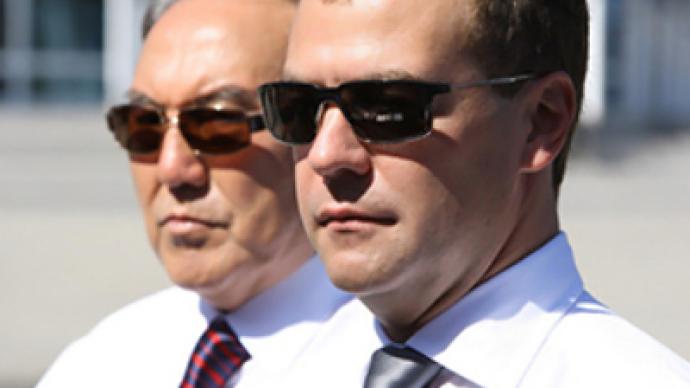 Moscow and Astana have excellent prospects for developing co-operation, Russia's President Dmitry Medvedev said at a meeting with his Kazakh counterpart Nursultan Nazarbayev.
The Russian leader said that the two countries have a "friendly perception of each other" and the bilateral co-operation is moving forward, cites Interfax.
"We are sure that these are not paper projects, but working ideas, which are being implemented and which demonstrate the results of Russian-Kazakh co-operation," Medvedev said. "This brings revenues to companies and incomes to our citizens."
"If we further promote our relations this way, they will have a brilliant future," the president added.
Medvedev arrived in the eastern Kazakh city of Ust-Kamenogorsk on Monday for talks with Nazarbayev, and also to take part in VII Forum of interregional co-operation between the two countries.
It has become the eighth meeting this year between the leaders of Russia and Kazakhstan, with at least two more scheduled for later this year.
"The dynamics of our relations speak for themselves. And it shows that, generally speaking, our relations could serve as an example of interstate relations inside the CIS [Commonwealth of Independent States]," Nazarbayev said.
The president of the former Soviet republic has also invited his Russian counterpart to take part in the Organization for Security and Cooperation (OSCE) summit that is due to take place in December in the Kazakh capital of Astana.
However, the visit was not all about boasting of achievements and projecting a brilliant future. The two leaders have discussed down-to-earth problems including, for instance, the lack of efficiency in implementing decisions made at Russia-Kazakhstan forums.

Medvedev has agreed with Nazarbayev that some projects simply do not move forward, which gives an impression that "we only work from forum to forum." As a way to tackle the problem, Medvedev suggested establishing a control mechanism – a body that would act on a permanent basis and report on what "buttons should be pressed" in order for projects to develop.

The two leaders also agreed to speed up their work on drafting an agreement that would regulate the presence of Russian, Belarusian and Kazakh citizens within the territory of the recently created trilateral Customs Union. Medvedev stressed that migration policy – including economic migration – is part and parcel of international co-operation.

"We should complete the creation of the normative basis in that sphere…I have in mind as well the settlement of the problem of the legal status of the office of the Federal Migration Service. We should sign an agreement on re-admission and work out common approaches to the stay of Russian, Belarusian and Kazakh nationals on the territory of the Customs Union," he said.
You can share this story on social media: