Medvedev 'drops a bomb' on missile defense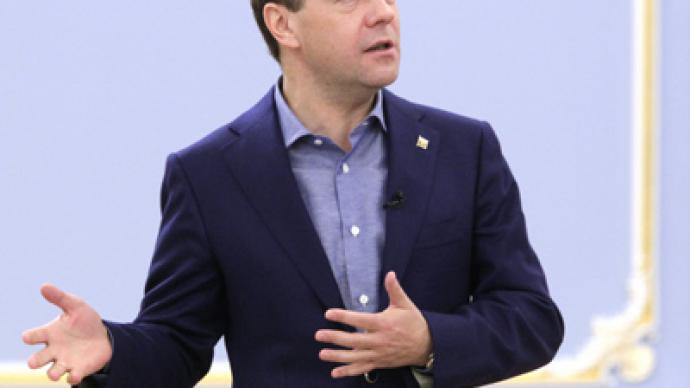 President Dmitry Medvedev provided some key insights into the run-up to the parliamentary elections, which saw United Russia retain its majority position in the State Duma.
Speaking on US plans to build a missile defense system in Eastern Europe, a project that threatens to escalate into another arms race, Medvedev said that his most recent warnings on the project had no connection to the electoral campaign as some critics at home and abroad suggested."As soon as I made the statement, I heard rumors it was made to strengthen the position of United Russia before the election and my own position during the period of the transition in power," the Russian leader told his supporters in Gorki, the presidential residence in the suburbs of Moscow."I would like to say again now that the election is over – this was an absolutely conscious statement. I did not want to make it for a long time, but I had to make it in the end," he said.Last month, Medvedev warned the western powers that Russia would fortify its borders with Iskander ballistic missiles unless a compromise is reached on the European missile defense project, which Moscow views as a direct threat to its national security. The US and NATO have balked on the question of Russia's participation in the long-term project, just miles from the Russian border.The President stressed that his comments were very well received by the Russian public, who is also beginning to express alarm at the irrational behavior of the United States and NATO of late."I do not know how it may be interpreted, but I want to say one simple thing that leads to one simple conclusion: I have not seen such unanimity regarding the president's position for a long time," Medvedev said. "Everyone – the left, the right, the young and the old – want us to be firm. There is such a demand." Medvedev made his comment after a speech by Dmitry Rogozin, Russia's Permanent Representative to NATO, a member of the committee of the president's supporters. "So what shall we do," the president asked Rogozin in a tongue-in-cheek comment. "Shall we drop a bomb or not?"
'Against all' an option
On a political question related to future elections, Medvedev discussed the possibility of reinstating the 'against all' option on election ballots, while holding out his personal opinion that he found it a "strange way of expressing one's opinion.""We may have the 'against all' option again. Nothing awful will happen," he said. "However, in my opinion, that is a rather strange way of expressing one's opinion."A drift in the voters' political convictions derives from an insufficient political structure, as well as ideological problems, he said. The President also said that some people are merely voting "out of spite.""When one loses votes, someone else gains," he said. "Yet I think we should all grow up – there are some people voting out of spite."The Russian leader added, however that this could be a sign of protest, which he called "natural." Speaking on the phenomenon of people suddenly switching political allegiances, Medvedev said this was likely to be explained by a weakness of conviction."As for ideological preferences, I can say that it is rather strange for a person who has always voted for the right to start voting for the left," he said. "If that is done to spite the system, then that is a question of choice. This means a person has never had firm right-wing convictions."Robert Bridge, RT