Medvedev: Annan's mission is last chance for Syria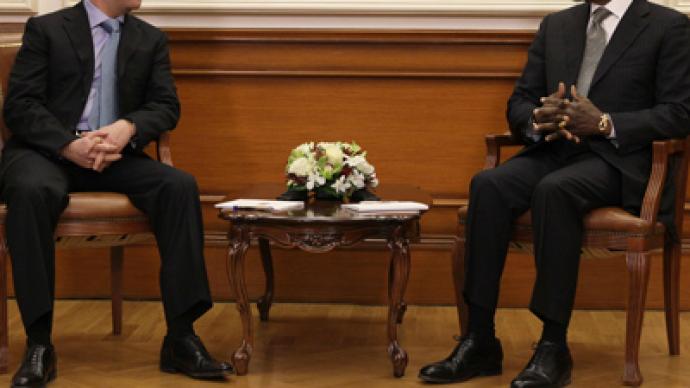 Russia's president has said Kofi Annan's mission "is the last chance for Syria to avoid a bloody civil war." At a meeting with Medvedev in Moscow, Annan noted that Russian help will be vital during his peacekeeping mission to the Arab state.
Russia praised Kofi Annan's efforts in Syria saying it will provide any assistance requested for his mission. President Medvedev said that Annan's mission is perhaps the last chance for Syria to avoid falling into a long-lasting civil war. That is why Russia "is constantly in contact with Kofi Annan and will provide any help on any level it can."Annan's mission includes a demand for the Syrian government and the opposition to immediately call a halt to troop movements and the use of weapons in populated areas. He has already met with Assad twice. However the Syrian president said he cannot stop protecting his citizens.Kofi Annan emphasized that "help and kind advice" from Russia are vital during his peacekeeping mission in the Arab State. The envoy added that he will strive to achieve all six points of the agreed roadmap, including a humanitarian corridor for all in need.Hisham Jaber from the Center for Middle East Studies in Beirut thinks that if Damascus consents to listen to anyone, it is likely to be Moscow and its calls for peace."I think Kofi Annan came to Moscow today asking Moscow to put pressure on the Syrian regime to be more flexible in its conditions. Personally I'm not that optimistic that he will succeed because they are asking for a ceasefire from only one side."Earlier the same day Annan met with the Russian foreign minister Sergey Lavrov, who called on the envoy to work just as closely with opposition groups as he does with Assad's government.Diplomats believe that Annan needs time to work in Syria with no deadlines and to see how the situation develops before turning to the UN Security Council for further reaction. "Annan's mission needs time in Syria before any decisions are made in the UN," a deputy foreign minister said.
You can share this story on social media: