Russian president "respects" Belarusian election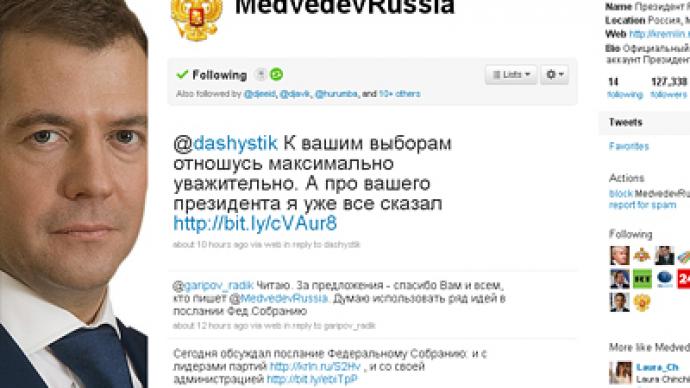 Dmitry Medvedev hopes "the senseless period" of tension between Moscow and Minsk will end, and has directed internet users to his video blog entry on Aleksandr Lukashenko.
A Twitter user asked the Russian president about his attitude toward his Belarusian counterpart. Medvedev noted he had already said everything he needed to on Aleksandr Lukashenko and relations between Moscow and Minsk. At the same time, Medvedev stressed that he respects the presidential election in Belarus due in December. "The senseless period of tension in relations with Belarus will surely end," he said. Medvedev posted a link on his Twitter account to his video blog entry devoted to the relations. In October, he accused the Belarusian leader of failing to maintain "basic human dignity" and using anti-Russian rhetoric in his statements. The tech-savvy Russian president actively uses a video blog and Twitter to explain his policies to Russian and foreign users. He has even renamed his Twitter account to make it more informal. Medvedev registered on Twitter in June during a visit to the US. Now the English version of the blog has more than 54,000 followers. The president recently used Twitter to sum up his participation in the Russia-NATO Council in Lisbon and to thank users for their ideas for his annual address to the Federal Assembly.
You can share this story on social media: