Medvedev says no nano-future without better laws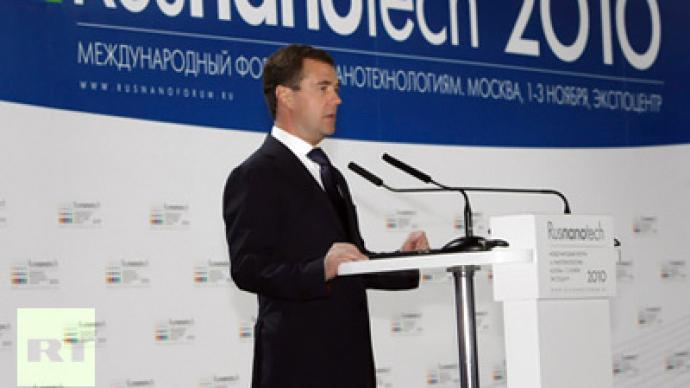 Russia must cut excessive tax burden and red tape if it is to become a major player in nanotechnology, according to President Dmitry Medvedev, speaking at the annual RusNanoTech Forum.
Medvedev has made technological modernization one of the themes of his presidency – and nanotechnology a specific focus.
"We must raise our share to three per cent of the world market by 2015," said Medvedev. He emphasized that in order to succeed internationally, Russia needs to create an internal demand for nanotechnology. The president also said that local centers will be set up all over the country that will offer practical innovation ideas to small and medium-sized businesses.
Nanotechnology is the manipulation of tiny particles that has a wide range of practical applications, from computer circuits, to pharmaceuticals and textiles.
In 2007, a state corporation was set up to promote the development of nanotechnology in Russia. However, despite investing over US$10 billion, Russia still produces less than one per cent of all the nanotechnological devices in the world.
Medvedev also said that new, simpler immigration rules will make it easier to attract world-leading scientists to work in Russia.
Skolkovo is the place where many of them might work, he hopes. Dubbed "Russia's Silicon Valley", the multi-billion innovation center will offer not just prime facilities, but tax breaks, simplified customs regulations and special administrative privileges.
"We don't need a second rate nanoscience, we need to be world class" said Anatoliy Chubais, the head of the Russian Nanotechnological Corporation, at the same forum.
The third RusNanoTech Forum is designed to show off the latest Russian innovations. Highlights this year include Russia's first electric car and an airport scanner that can determine whether a liquid in someone's hand luggage is dangerous or not.
"We were right to focus on nanotechnology," said Medvedev, citing that the world market in nanotechnology has grown five-fold since 2001. "But there are still barriers. Our role as the government is to improve the legislation, and make sure it's being adhered to."
Igor Ogorodnev, RT