Medvedev signs decree pushing for internet debate of major bills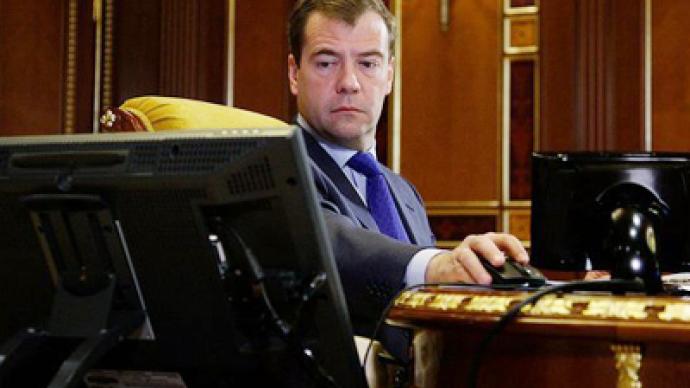 Russian President Dmitry Medvedev has signed a decree authorizing public debate of constitutional and federal draft laws in the internet. This will refer to the bills dealing with major issues of the government's social and economic policies.
It is expected that the draft law submitted for public discussion will be online for 90 days. Then a wrap-up report on the results will be presented to the president.Russia's first law which has been discussed in the internet was the Police Law. Recently adopted by both parliamentary houses and signed by the president, it enters into force on March 1. "We've had a positive experience discussing the Police Law. It has become more consistent and accurate," Medvedev said during a meeting of the Security Council on Wednesday. A draft law on education has also gone online, and the debate is still on, with more than 10,000 comments received in three months. Many legislators have hailed the initiative, though noting some drawbacks. "Socially active people have eagerly joined legislative work, they have made sensible suggestions which then made their way to the law," said deputy head of the ruling United Russia party Tatiana Yakovleva, referring to the Police Law. "This is a new phenomenon for Russia but it is an important mechanism of a democratic state," she added. Communist deputy Viktor Illyukhin is skeptical about the prospects of the newly-signed decree."Such a debate would be perfectly justified if anyone listened to the people, which is not the case," Ilyukhin said.Igor Lebedev from the Liberal-Democratic Party supports the idea, but points to inevitable delays in the adoption of laws."I am positive about the very idea of public discussion of bills. After all, we make laws for the people," he said. He added that if there is an immediate need for this or that law it is better not to submit it to be debated on the internet.Deputy head of the Fair Russia party Oleg Shein also finds the initiative "useful", allowing for reasonable amendments to be made. He said more laws should be discussed in that manner.
You can share this story on social media: