Medvedev to act as nation's online agony aunt ahead of address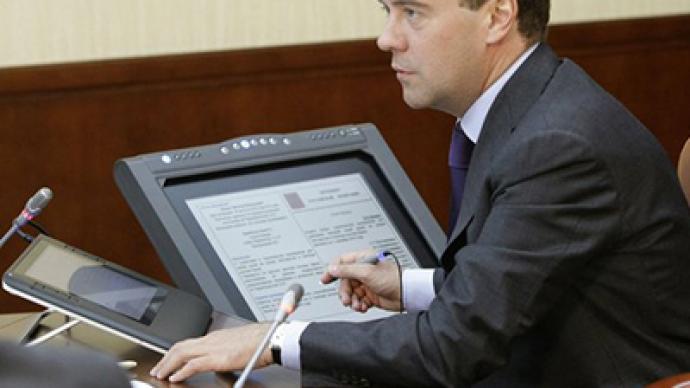 President Medvedev is reportedly going to hold an internet conference with Russian citizens next week to find out their worries ahead of his annual address to the Federation Council.
An avid web-user and a big fan of new electronic gadgets, Dmitry Medvedev has already got his own page in LiveJournal, a Twitter account and a video blog. Now the top Russian blogger is planning to go online to talk to his people.
Nezavisimaya Gazeta (NG) daily reports that the first ever presidential Internet-dialog with the nation will kick off at 1300 Moscow time on November 16. On that day, people who go to presidential offices throughout the country will be able to quiz the president. This method allows the less tech-savvy to take part.
People in the East of Russia and in Siberia will be first to have their virtual meeting with the head of state. Later, Medvedev – while staying in his super advanced hi-tech public reception room in Moscow – is expected to continue his cyber trip westwards.
It is likely that people will want Medvedev to comment on Russia's traditionally-long list of social problems: low pensions and high prices, housing, healthcare and so on. According to the paper, the topics raised at the online conference will be reflected at Medvedev's third annual address to the Federation Council. "Yet another PR effect the all-Russian reception is trying to create, is to make people feel they are contributing to working out the strategy of the country's development for next year," NG writes.
Dmitry Medvedev is not a pioneer in organizing direct dialog between the Kremlin and the nation. His predecessor Vladimir Putin introduced live televised Q&A sessions with citizens. Now, in the role of prime minister, Putin still holds live phone-ins. The next is due to take place before the end of this year, Putin's spokesperson Dmitry Peskov told the daily.
Lately, Medvedev has been seen meeting with the public more often than premier Putin. Not long ago, the president spent an evening out with leading Russian rockers at Moscow's Rhythm'n Blues Café chatting about music, ecology and copyright law. Quite often, when touring the regions, Medvedev pops into local food stores to have a look at prices that people have to pay for basics.
The explanation is that Vladimir Putin has already formed an image of a politician who is close to people, according to the first vice-president of the Center of Political Technologies, Aleksey Makarkin. Now it is Medvedev's turn, he added.
"People want to see Medvedev as a social president… who shares people's interests, respects the elderly, and is able to build up a rapport with nonconformists, such as rock-musicians," Makarkin told newsru.com.
Medvedev, who is keen to utilize modern technology and push its boundaries, will be the first Russian leader to hold discussions with citizens over the internet in real time.
According to the deputy director of the Institute of Social Systems, Dmitry Badovsky, Medvedev's first Q&A with the population will be rather different from Putin's "direct lines". For instance, Medvedev might also set up direct connection with ministers or governors and get comments from them on citizens' complaints, during the conference.
Yet another novelty of Medvedev's idea, is that the questions and comments from the public will not be sent in advance.
Analysts say there is nothing wrong if the Medvedev-Putin "tandem" uses different means of communication and that looking for contradictions over the issue is simply naïve. For Medvedev, who always has his I-pad with him, it is quite natural to use the Internet for dialog with citizens. On the other hand, Putin – who confessed he still has no mobile phone – feels more comfortable with phone-ins.
"Every big politician creates his own, suitable for him means of communication with citizens,"  Dmitry Orlov, general director of the Agency of Political and Economic Communications told PolitOnline news website. Russia can only benefit, he said, if the leadership tries to hear people and know what they want. And those who are trying to make out that different communication approaches are a sign of tension within the tandem, simply want to manipulate public opinion, Orlov stated. "Their goal is disintegration of power."
­Natalia Makarova, RT