Medvedev signs amendments introducing forced labor into Criminal Code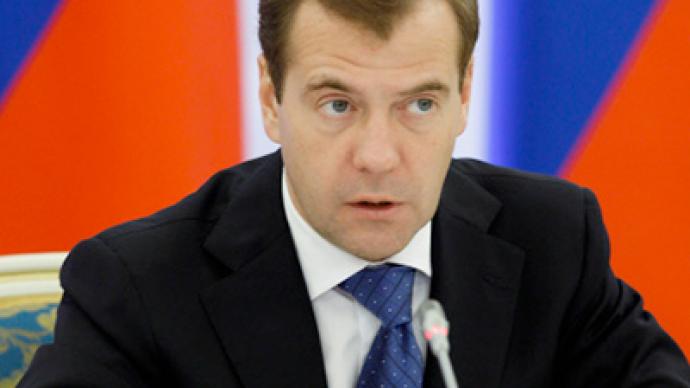 Russian President Dmitry Medvedev has said a set of amendments to the Criminal Code contains new forms of punishment, while reducing charges of slander – once a criminal offense - to a civil offence.
Medvedev personally announced that he was submitting the new draft law to the Lower House on Tuesday while meeting with Justice Minister Aleksandr Konovalov. In Russia, the Justice Ministry includes the Federal Service for Execution of Punishment – the body that oversees the system of prisons, penal colonies and pre-trial detention centers."The draft law includes a number of novelties and deserves attention as it makes the criminal law more up to date, gets rid of obsolete norms that were passing from one code to another but were never observed, eliminates contradictions and introduces a new form of punishment – forced labor," Medvedev said.Apart from the introduction of forced labor, the bill establishes new penalties for petty economic crimes and crimes related to drug trafficking. Meanwhile, charges of libel and slander have been decriminalized and will fall under the civil code."The deeds that are listed as crimes in the current version of the Criminal Code are being decriminalized and after the law comes into force these acts will be persecuted as administrative offence," the president noted.The list of such actions pertain to libel, including cases of libeling judges involved in court cases, as well as non-qualified actions that do not cause grave consequences.The draft law introduces alternative forms of punishment, such as forced labor, which may be set for a period from 2 to 5 years; and punitive labor, which requires the convicted party to continue with his civilian job, while the wages are paid to the state as a fine or to the victim as compensation.The new law also permits correctional labor sessions at the convict's main place of work, while previously correctional labor (forced manual labor) was usually applied to unemployed convicts.The Justice Minister said that the part concerning the punishment for crimes related to illegal drugs turnover was especially important. The new bill provides that the court could order the convict to undergo compulsory treatment for drug addiction, which allows for the suspension of punishment until the treatment is completed.For economic crimes, a fine of five times the inflicted damage will serve in place of other forms of punishment.Konovalov said that the new package of amendments was not liberalizing the criminal law, but rather made it more pragmatic – a flexible but tough mechanism that serves as an appropriate response to unlawful behavior."The main principle is that the man who has committed a grave crime will serve the maximum punishment," the minister said.
You can share this story on social media: