Medvedev urges society to change attitude to environment protection
Published time: 9 Jun, 2011 12:17
Edited time: 9 Jun, 2011 18:55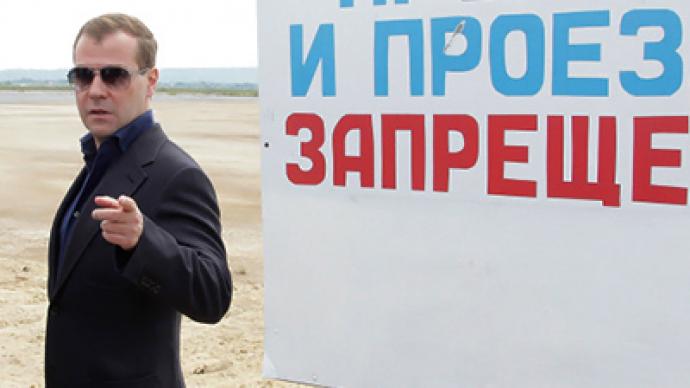 No matter what environmental laws are adopted, they will not be efficient unless society changes its attitude to ecology, Russian President Dmitry Medvedev has said at the State Council session.
The State Council gathered on Thursday in the city of Dzershinsk to discuss ecology issues. Opening the session, Dmitry Medvedev noted that unfortunately environment protection is currently not given priority in Russia and is only considered when all other problems are sorted out.He stressed that it is necessary to change such attitude to ecology. That could be done by fostering ecological culture in the nation from childhood and doing it practically.
According to the president, Russia has a long list of environmental problems – both new and those the country "inherited" from Soviet-era times. The total amount of hazardous waste stockpiled in the country is over 30 billion tons. Reversing the environmental damage "is a large and complicated topic", addressing which requires state as well as private investments.
Medvedev stressed that nature protection issues should become "fashionable" not only for ecologists, but also for businessmen and state officials.
"No one likes to pay for ecology," Medvedev observed. However, abroad it is quite natural to allocate money for environment protection, while in Russia only the most "mature" businessmen are ready to do so.
The president also called on the lower house, the State Duma, to give environmental draft bills a priority when considering them prior to adoption. A day earlier – during his informal meeting with ecologists at the Kremlin – Medvedev sharply criticized the government for its failure to fulfill his orders on improving legislation on environment protection which were given following the State Council in May 2010. Speaking at the session on Thursday, he gave the government a month to conclude their work on three documents that still have not been passed to the parliament.

A participant of the meeting, Igor Chestin Director of the WWF-Russia, pointed out that Russia is violating its obligations under the "zero-waste" program announced in the Sochi 2014 Olympic Bid Book which was submitted to the International Olympic Committee in 2008.  The objective of the "Zero Waste Games" project is to develop a plan for waste management that focuses on sustainable consumption, recycling and safe disposal.
Commenting on Chestin's report, president Medvedev stressed that violations of the program commitments are unacceptable. He said the government should discuss the matter again together with ecologists.

Earlier on Thursday, Medvedev instructed Deputy Prime Minister Igor Sechin to look into the possibility of obtaining funds for ecological programs under the Kyoto Protocol – a legally binding agreement under which industrialized countries must reduce greenhouse gas emissions. 

"As long as we are a Kyoto signatory, we need to obtain funds. Igor Ivanovich [Sechin], take a look at the issue, because we haven't used the money which is due to us under the Kyoto Protocol in full measure," he said, as cited by Interfax.