Medvedev approves measures to develop citizens' legal awareness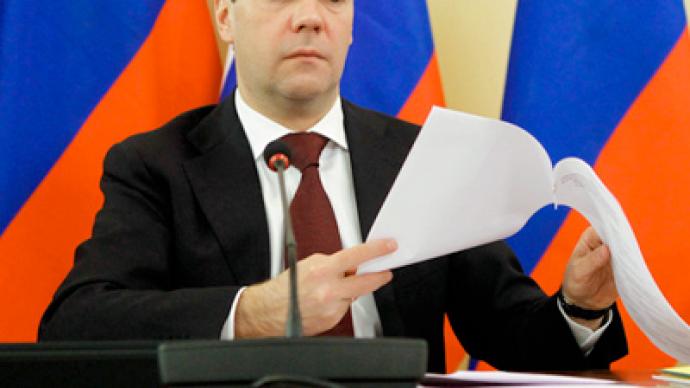 The Russian president has approved the fundamentals of a state policy on developing legal awareness and culture among citizens.
The main goal of the project is forming high level of legal culture of Russians and establishing traditions to respect law and order, and the courts. Good faith should become the dominant model of social behavior and help "overcome legal nihilism" in society, which prevents Russia from developing as a modern civilized state, the document reads. A higher level of legal knowledge will also be essential in promoting tolerance in Russia's multi-ethnic and multi-cultural society. The new program will involve federal and regional state bodies and public organizations. According to the document, the state will be responsible for creating conditions to develop legal awareness among citizens and knowledge of ways to defend their rights – they should have "access to qualified legal assistance." "The state policy is oriented to historically established norms of morality and moral values of Russia's multi-national people," the fundamentals read. They also cite flaws in the legislation, the present practice of its application and the lack of institutional mechanisms as the reasons behind spreading legal nihilism.Such nihilism "devalues genuine spiritual and moral values" and gives grounds to social phenomena like alcoholism, drug addiction, pornography, prostitution, domestic violence, arbitrariness and others, according to the document.Children of pre-school age will be familiarized with elementary basics of the legal culture, and new programs will be developed for educational institutions, including for aims of "additional legal education for adults." Information and propaganda materials should be published in the mass media and become topics of social advertising.  To achieve the declared goals, the state is going to create additional information resources and develop access of citizens to legal services. Non-governmental organizations that offer free legal assistance could receive state grants. Financial support will come from the state and regional budgets and institutions of the state and private partnerships. President Dmitry Medvedev, a lawyer by trade, has repeatedly stressed the need to overcome legal nihilism as one of the main conditions of the country's development and modernization. Many believe that changing mentality and people's attitude to legal issues could be an even harder task than finding funds for this new ambitious program.
You can share this story on social media: