Medvedev orders additional check into dead lawyer Magnitsky's case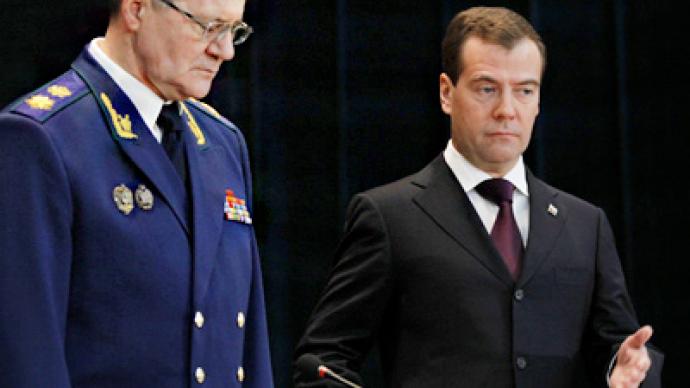 Russian Prosecutor General's Office will conduct a large scale check of all cases that are in any way connected with lawyer Sergey Magnitsky, the lawyer who died in prison while on trial over a major tax evasion case.
Official spokeswoman of the Prosecutor General's Office, Marina Gridneva has told Russian reporters that in connection with broad public resonance and on the order of Russian president, her agency had organized a group of prosecutors who would check all criminal cases connected with the activities of lawyer Sergey Magnitsky and his death. The group will include specialists from various departments of the agency, Gridneva said. Prosecutor General Yury Chaika met President Medvedev on Tuesday evening, and after the meeting Chaika said that Medvedev had ordered him to boost the prosecutors' control on the course of the investigation of the cases connected with the lawyer of the Hermitage Capital fund Sergey Magnitsky. Thirty-seven-year-old Magnitsky died of complicated heart disease in November 2009 while he was in a Moscow pre-trial detention center under investigation within a major tax evasion case. His employer, the Hermitage Capital Management fund launched a major PR campaign in order to attract attention to Magnitsky's death and punish those responsible. The campaign yielded some results as several officials from the Justice Ministry, which oversees the prison system in Russia, lost their jobs, but Hermitage still insists that many more people from the Interior Ministry and Prosecutors' office must be punished.Russian prosecutors summoned the head of the Hermitage Capital Management fund, investor Bill Browder for questioning as a witness, but Browder refused to show up and is currently on a wanted list in Russia.Apart from the official investigation, the Russian Presidential Council for Human Rights has started an independent investigation into Sergey Magnitsky's case. The report on this investigation is expected in late July this year. On Wednesday the Hermitage Capital Management issued a letter in which they said they did not believe that the additional check by Russian prosecutors would bring any results. They also protested against Prosecutor General Chaika's participation in the investigation. According to Hermitage Capital Management's press department, while Magnitsky was still alive he addressed Chaika with numerous complaints over his prison conditions and all these complaints were either turned down or left unanswered.
You can share this story on social media: