Medvedev to abstain from debates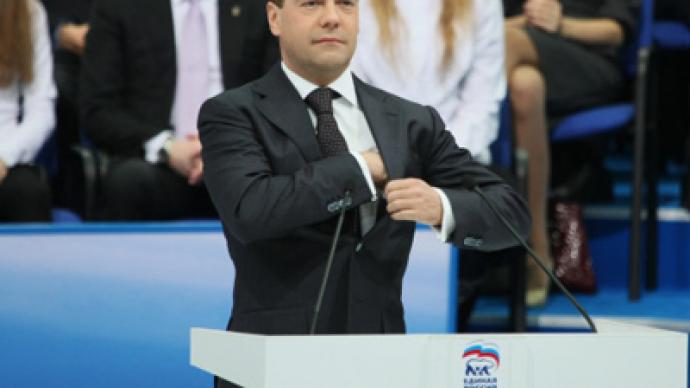 Russian president Dmitry Medvedev, who heads the United Russia election list in the parliamentary election on December 4, will not take part in televised debates.
­"Dmitry Medvedev will lead our list, but for debates we have a team, a serious team of debaters," the secretary of the United Russia presidium, Sergey Neverov, told journalists on Thursday. "We are fully capable of holding debates with any party," he added.On Wednesday, the secretary of the Central Election Commission, Nikolay Konkin, also said that the parliamentary campaign will not prevent Medvedev from fulfilling his duties as president. "According to the law, persons holding state posts are not obliged to take a vacation [for the period of election campaigning]," he said during a media conference. Back in 2008, as a presidential candidate, Dmitry Medvedev also refused to take part in debates.As for the last parliamentary election in 2007, United Russia's list was headed by the then president Vladimir Putin. Neither he nor other party members participated in the debates. This year, the ruling party has thoroughly prepared for the verbal fight with its opponents. In September it announced the names of debaters, which, among others, include the presidium's first deputy secretary Andrey Isaev, head of the Central Executive Committee Andrey Vorobyov, and Duma deputies Sergey Markov and Irina Yarovaya. It is expected that members of the All-Russia Popular Front will also take part in the debates. The movement was created in May on the initiative of Prime Minister Putin "as a tool for uniting congenial political forces" and aimed at attracting "new people and fresh ideas" to United Russia. On Thursday morning, United Russia was the last of seven registered parties to submit to the Central Election Commission its lists of federal and regional candidates. According to the Interfax news agency, in the running there are 416 party members and 183 non-members, representatives of the Popular Front. Under the law, debates are now obligatory for all parties. They are scheduled to start in November, a month ahead of the election.