Michael McFaul on what a "win-win situation" means for America
Published time: 13 Oct, 2011 13:07
Edited time: 13 Oct, 2011 17:47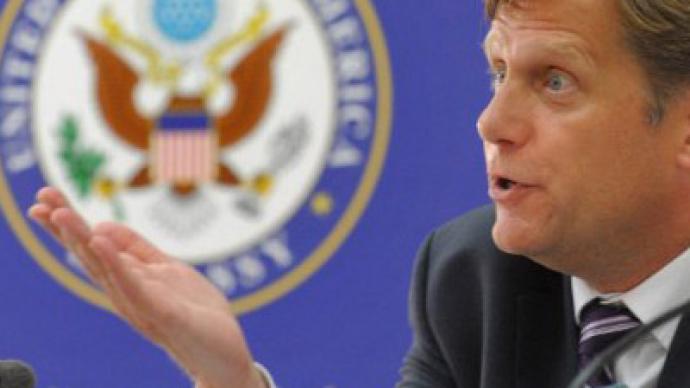 US President Barack Obama's nominee for US ambassador to Russia, Michael McFaul, appeared before the Senate Foreign Relations Committee on Wednesday, explaining why he should be appointed Washington's highest ranking diplomat in Moscow.
­Michael McFaul, who is perhaps better known as Obama's "architect of Russia policy," opened his remarks before the Senate Committee by providing a litany of accomplishments hammered out between Moscow and Washington since the reset was announced in early 2009.

"Rather than framing all interactions between the United States and Russia as zero sum contests for power and influence," he began, "we look for ways to produce win-win outcomes."

So far, so good. McFaul proceeds to rattle off examples of these "win-win outcomes," including the signing of "a military transit accord with Russia," which is responsible for supporting "more than 1,500 flights transporting more than 235,000 personnel" over Russian territory and into Afghanistan, where US forces have been battling Taliban forces longer than their predecessors did in Vietnam.

This transit arrangement with Russia is a "matter of vital importance to our troops" as the transit route through Pakistan becomes "more problematic," he added.

McFaul, whose family in attendance at the hearings created a scene of domestic bliss, also mentioned the ratification of the New START Treaty, which was signed by Obama and Russian President Dmitry Medvedev last year in Prague.

"This treaty reduces our nuclear arsenals, but importantly also provides robust verification and transparency measures that will build confidence and predictability on both sides," he said.  

Obama's nominee for US ambassador to Russia then mentioned briefly some of the recent global hotspots – Iran, North Korea and Libya – where US and Russia, while not always seeing eye-to-eye, were able to come to terms with each other's positions.

McFaul paid special attention to the Islamic Republic of Iran, which has been subjected to four rounds of economic sanctions by the United Nations for its alleged refusal to cooperate with nuclear inspectors from the International Atomic Energy Agency (IAEA). Iran says that its nuclear program is solely for peaceful purposes.

"On Iran, we worked closely with Russia to craft United Nations Security Council resolution 1929, which significantly expanded the multilateral sanctions regime," the possible next ambassador to Russia said.

McFaul then applauded Russia's multi-billion dollar decision to "unilaterally" cancel the sale of S-300 surface-to-air missiles to Iran, which the Islamic Republic had been hoping to acquire, especially as the rumors of an Israeli preemptive strike on Iran's nuclear sites continue to gain traction.

Here, a disturbing trend begins to appear in McFaul's line of reasoning as to what constitutes a "win-win" situation: whatever serves America's foreign policy interests in its dealings with Russia is automatically coined "win-win." This type of one-sided thinking, which has been a hallmark of Beltway strategy since at least the end of World War II, is also conspicuous when it comes to discussions about US-Russian economic relations.

Here is McFaul speaking enthusiastically on the "win-win situation" that will develop if Russia becomes a member in the World Trade Organization.

"The (Obama) administration has been actively supporting Russia's accession to the World Trade Organization, since Russia's membership in the WTO will create new markets for US exports and increase opportunities for US companies, farmers, ranchers, investors, and workers," he argued.

As a WTO member, Russia will have to lower tariffs and liberalize the conditions under which "American services can be sold in the Russian market," Obama's guru on Russia added.
It will be interesting to see how US producers respond to a steady stream of Russian products entering the country.

As far as supporting the termination of the Jackson-Vanik Amendment, which has haunted US-Russia relations for decades, McFaul believes this is a splendid idea because: "we cannot afford to put our farmers, manufacturers, and workers at a disadvantage when competing against other WTO members for market share in Russia."

Although it is to be expected that every nation consider the domestic advantages of doing business with other countries, as well as defend their own interests, McFaul's arguments for cooperation with Russia are so one-sided in favor of US interests that it is easy to predict some nasty potholes down the road.

The most glaring example of this one-track train of thought involves Georgia, the Caucasian country with which Russia was forced into a military conflict in August 2008.

"There are clearly issues on which the United States and Russia are not going to agree – and Georgia is one of them," McFaul bluntly told the Senate Committee. "Whether in bilateral meetings with the Russians, at international organizations or in multilateral settings, we have consistently and adamantly defended Georgia's territorial integrity."

McFaul, a native of Glasgow, Montana, has never gone on record criticizing Tbilisi's decision to attack Russian peacekeepers and unarmed civilians, arguing instead that "Russia's relations with its neighbors had been deteriorating at an alarming pace," which certainly ignores the reality of the situation.

Unfortunately, McFaul refuses to see any link between Washington's behavior in the region and how it has had an adverse affect on relations in the region. It is no secret, for example, that US is serious about getting Georgia, and irrespective of its irresponsible behavior, its own shiny membership card in NATO.

"From the very beginning of the Administration, we sought to reverse this dangerous trend, first by reassuring and strengthening our security ties with our NATO allies," he told the Senate Committee.

The United States, it must be remembered, has unilaterally declared war on numerous sovereign nations, and without the blessing of the international community (Iraq, for example). Meanwhile, Russia, which had not been involved in any war since exiting from Afghanistan in 1989, is still criticized by Washington for defending itself after Georgian President Mikhail Saakashvili made the fatal decision to open a full-scale military offensive against Russian peacekeepers and civilians in South Ossetia on August 7, 2008.

It seems that Washington fails to appreciate the hypocritical impression it creates in Russia when they hear a US diplomat, the representative of a nation that is currently fighting in three wars, somberly tell Russia: "There are no military solutions to this impasse, only diplomacy."

Although Michael McFaul certainly has the educational and professional qualifications to serve as the next US Ambassador to Russia, on the basis of his recent statements it seems that he will enjoy more success with his Russian hosts if he remembers that there are necessarily two sides to a "win-win situation," not just one.