Russia-US reset entering 'new phase' – McFaul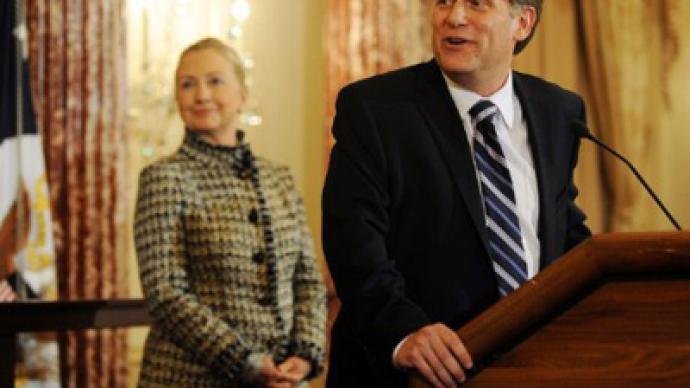 During his swearing in ceremony as the new US ambassador to Russia, Michael McFaul expressed optimism over the future of bilateral relations between the two former Cold War foes.
McFaul stressed the need for Russian-US cooperation on a range of prickly issues, including in America's missile defense system, which has raised alarm bells in Moscow. At the same time, tensions continue to grow over Iran's nascent nuclear energy program, which the US and Israel believe is a cover for the development of nuclear weapons. Elsewhere, Syria continues to experience the rumbling of street protests, which are determined to topple the government of President Bashar al-Assad.

All of these issues require more extensive dialogue and a more creative approach, McFaul said during his swearing-in ceremony in Washington on Tuesday.

In order to achieve specific goals, US Secretary of State Hillary Clinton, who personally swore in the new ambassador, stressed the importance of maintaining healthy relations with Russia.

"This administration has placed a particular emphasis on working together with Russia, one of the most complex and consequential relationships we have with any nation in the world," Clinton said following the swearing-in ceremony. "We have worked closely together on a range of critical issues, from nuclear nonproliferation to combating terrorism and drug trafficking to addressing the effects of climate change."

The US Secretary of State added that Russia – as a permanent member of the UN Security Council, a member of the G8, G20, the Mid-East Quartet, the multilateral negotiations on Iran, the Six-Party talks on North Korea – is "intimately involved" with many of the world's "most important diplomatic challenges."

However, judging by some recent comments by Washington's leading Russia advisor, there are some foreseeable diplomatic potholes on the road to reset. Speaking on the controversial subject of US missile defense, for example, McFaul does not support the idea of providing Moscow with "legally-binding guarantees" that the system would not in the future compromise Russian defenses.

"Recently, missile defense negotiations have been especially difficult," McFaul said at Senate hearings during his nomination process. "We have stumbled against Russia's demands to provide a legally-binding agreement that we do not intend to undermine their strategic missile forces. We have responded that our missile defense system does not target Russia and we have no plans to undermine strategic stability…We do not intend to sign any legally-binding agreements that could in any way limit our missile defense system."

McFaul failed to explain how providing Russia with a simple contract would place technical limitations on the missile defense system, which US and NATO say is needed to protect Europe's eastern flank from a rogue missile attack.

Despite the obstacles that such an undiplomatic approach may mean for the future of the much-heralded reset, US and Russian diplomats expressed optimism over McFaul's appointment.

Russian Ambassador to the United States Sergey Kislyak, who was present at McFaul's swearing-in ceremony, told reporters that he regarded McFaul's appointment as a "continuation of President Obama's policy."

"The fact that one of (President Obama's) top aides on Russia is going to Moscow is a good sign," the Russian ambassador said. "This means that those policies that have helped us solve many problems will be continued in the future."

"We hope that there will be continuity in the course and that Mike will put it into practice," said the diplomat, wishing his American colleague and friend success in his new position.

McFaul, 48, is acknowledged as a leading architect of the Obama administration's "reset" policy, focused on improving relations with Russia, as well as an advisor on the new US-Russia nuclear arms reduction treaty (New START). The former Stanford University professor replaces John Beyrle, who was appointed US ambassador to Russia in 2008 by former President George W. Bush.

Prior to his appointment to the ambassadorship, McFaul was Senior Director of Russia and Eurasia Affairs for the White House National Security Staff.

McFaul is expected to arrive soon to his new address at Spaso House in Moscow, where his work to repair the presently damaged reset will certainly be cut out for him.
Robert Bridge, RT