Moscow wants Ukraine to punish nationalists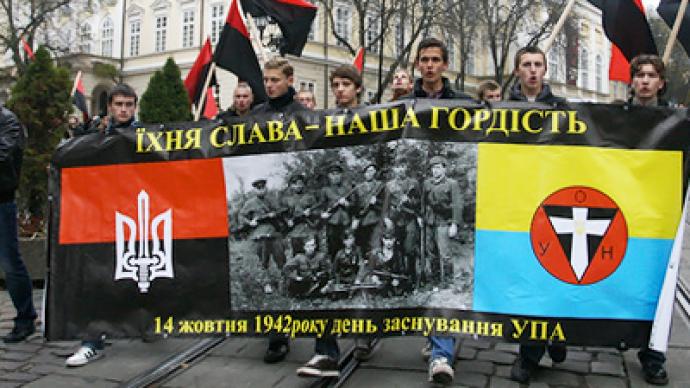 Ukrainian authorities must bring to account nationalists who staged provocations on Victory Day in Lvov and other cities in Western Ukraine, stated the head of the State Duma Committee for CIS Affairs, Liberal Democrats MP Aleksey Ostrovsky.
On May 9, when Russia and the former Soviet republics mark the end of World War II, members of the Freedom nationalist movement instigated mass brawls, stopped veterans from taking part in events, burnt red banners which are considered to be the symbol of victory and threw smoke flares at policemen. In Lvov, they also attacked Russian diplomats who were going to lay a wreath at a military cemetery."No doubt, such escapades have nothing to do with the state policies and are not supported by official Kiev," Ostrovsky told Ekho Moskvy radio station. "I am convinced that a response to them should be uncompromised actions of Ukrainian law enforcement and judicial bodies. I would like to believe that the state will make use of all mechanisms at its disposal to put these bastards in their place."Konstantin Zatulin, deputy chairman of the State Duma Committee for CIS Affairs and member of the ruling United Russia party, called Lvov nationalists "successors of fascists"."The Freedom union is interested in making its voice heard, no matter the means. This movement is an extreme political structure similar to Nazi Germany," Zatulin stated. "The activities of such a union in Ukraine are a serious challenge for its authorities that have so far not demonstrated their ability to fight this phenomenon and have to put up with its existence."Zatulin also pointed out that it is not the first time that Freedom has organized "an outrageous" action. He then suggested that the authorities might be to some degree interested in this, given their inertia in regard of the movement. "A union of this kind mobilizes not only the electorate of Freedom but also the supporters of their opponents," he commented, talking to the Russian News Service radio station.
You can share this story on social media: