Russian human rights ombudsman to help detained radical artists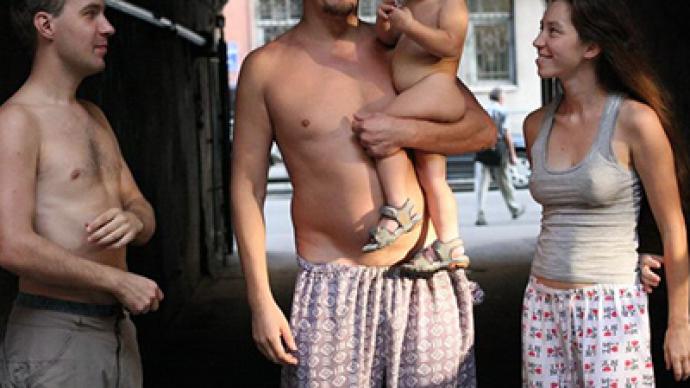 Activists of a radical performance group arrested at a rally in support of freedom of assembly have been promised judicial assistance from ombudsman Vladimir Lukin.
Oleg Vorotnikov, his wife Natalian Sokol and Leonid Nikolayev are being accused of resisting arrest during an unauthorized rally in St. Petersburg in support of Article 31 of the Russian constitution that guarantees freedom of assembly. Vorotnikov and Sokol, the members of the performance group Voina ("War" in Russian) participated in the rally with their one-and-a-half-year-old son Kasper. This fact did not prevent police from detaining the artists along with other protesters. According to lawyer Dmitry Dinze, officials from the staff of the Russian human rights ombudsman Vladimir Lukin offered their assistance in the administrative case against the members of the group. The artists were sent to detention centers, but later released. Vorotnikov said policemen beat him, but they have now accused him of disobedience. According to the artist and his wife, officers took their son away and he was found later in a nearby hospital. Now the radical artists are facing trial for disobedient behavior. But the actions of the policemen who detained them will be assessed by the ombudsman, who is going to visit the police station, Gazeta.ru reports. According to the online newspaper, Lukin himself called the lawyer at night and asked to describe the circumstances at the station. The head of the Child's Right human rights center, Boris Altshuller, believes the situation around Vorotnikov's son could be a reason for the ombudsman's check as well. However, Altshuller told the paper that the policemen were right when they handed over the child to doctors. "But if it was an administrative case, it would have been better to release his mother," he noted. Some observers believe the police have a grudge against the group, known for its provocative performances. In November 2010, Vorotnikov and Nikolayev were detained for overturning an empty police car as an art performance act. In May 2010, Nikolayev was accused of hooliganism after he put on a blue bucket on his head and ran over the roof of a car. It was his contribution to the efforts to stop officials' misuse of blue flashing lights on their cars.
You can share this story on social media: