Spring loaded: Lukashenko tightens screws for autumn vote
Published time: 26 Jul, 2012 13:24
Edited time: 26 Jul, 2012 17:24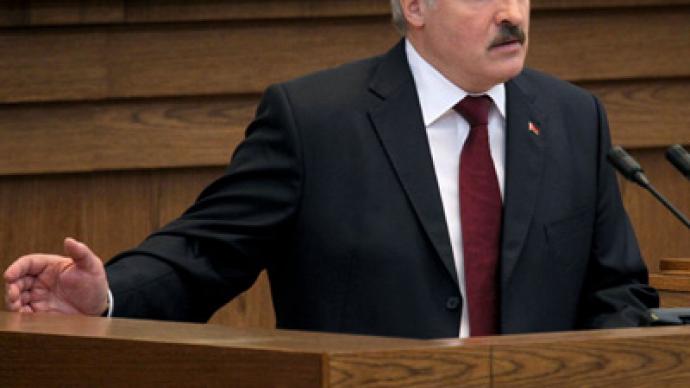 Belarusian President Aleksandr Lukashenko has told the military to be prepared to handle any efforts by internal and external forces that seek to destabilize the situation in the country ahead of upcoming parliamentary elections.
­The Belarus leader, clearly interested in the social and political upheaval that has rocked much of Arab world, is not letting his guard down as this landlocked Eastern European nation of some 10 million people prepares to head for the polls.
"We will hold the next parliamentary elections in autumn," Lukashenko told a conference in Minsk devoted to military reform. "This is the moment when those who fiercely hate Belarus and are opposed to how things stand will step up their activities both inside and outside the country."    
Lukashenko, alluding to the "forces of globalization," drew attention to the political strife that is gripping the Middle East, specifically in Syria, where government troops are engaged in an increasingly desperate struggle against rebel forces.
"During globalization, negative tendencies are able to spread very fast, regardless of geographical borders," he warned. "There are lots of examples in the Middle East and especially in Syria."
He also mentioned the "pressure" that is being exerted on Iran, which is presently engaged in a standoff over Tehran's nuclear energy program, which the United States and Israel say is a cover for acquiring a nuclear weapon.
In order to offset the possibility of similar circumstances erupting in Belarus, Lukashenko handed down orders to the country's defense minister.
"He has received detailed instructions to have a close look at the recently-reformed Belarusian military forces," he told the conference. "The situation with the Arab Spring and with Syria is changing rapidly and the military must be equipped to handle such a situation."
In case, God forbid, something should happen, he added.
Meanwhile, on a slightly different note that may go far towards reinforcing the conviction that "outside forces" want to disrupt the nation's internal situation, Lukashenko confirmed that a "foreign light aircraft" breached Belarus air space on July 4.
"How can this provocation involving a light aircraft be explained," he asked the assembled military officers. "The plane not only crossed the border, but intruded into the territory of the Republic of Belarus unpunished!"

The matter first of all affects the security of all citizens of Belarus, he declared.
Lukashenko has proven in the past that he will come down hard on individuals who seek to disrupt and even kill innocent civilians to advance a particular agenda.
On March 17, Vladislav Kovalyov and Dmitry Konovalov, both 26, were put to death for their involvement in an attack on the Minsk Metro last April that killed 15 people and wounded over 300.