Police allows opposition to conduct first sit-in rally on Triumfalnaya Square
Published time: 1 Aug, 2011 06:34
Edited time: 1 Aug, 2011 12:40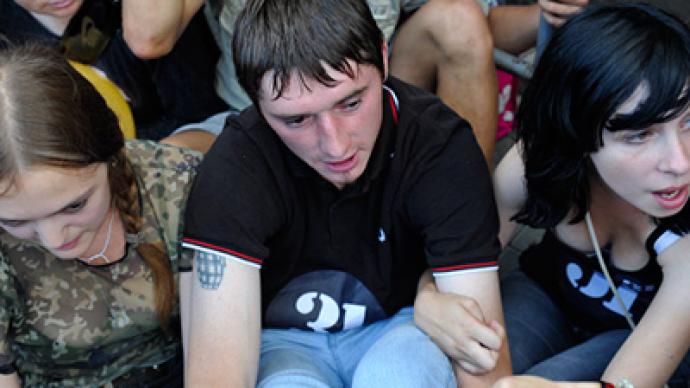 The city authorities did not disperse an unauthorized sit-in in central Moscow, as police only intervened after opposition activists attempted to march to the Kremlin.
More than 40 people were detained after protesters, who had gathered on Triumfalnaya Square, attempted to march down Tverskaya Street to the Kremlin in downtown Moscow on Sunday. Almost all of them were released on Monday. However, organizers Sergey Udaltsov and Konstantin Kosyakin are facing charges for "ignoring the lawful orders of police officers."
In the nation's northern capital of St. Petersburg, police detained around 50 people during a parallel rally which was also organized under the initiative of the Strategy 31 initiative. Activists hold protests on the last day of every month that has 31 days in support of Article 31 of Russia's Constitution, which guarantees freedom of assembly.
Police had previously dispersed similar unauthorized rallies, but several more recent events have not been banned by city authorities. Consequently, the organizers of the group split, as human rights activists agreed to hold events on the conditions set by the City Hall. However, the followers of Other Russia, led by Eduard Limonov, demanded that there should not be any limitations on the number of participants.
This time, city authorities also claimed that the organizers of the rally had misstated the number of participants. Instead of a 2,000-2,500 strong rally mentioned in the application, only around 100 people came to the Triumfalnaya Square. If real figures had been provided, "most likely, the event would have been authorized," a source in the mayor's office told Interfax.
Despite this fact, the authorities chose not to interfere, trying instead to demonstrate the actual number of participants, as the activists conducted a sit-in for the first time. Politician and author Eduard Limonov, one of the main leaders behind the Strategy 31 initiative, described the latest rally as a success. It was "not a tragedy," that several people were detained later, although it was unpleasant, he stressed.
Police allowed the activists to hold an unauthorized sit-in, and interfered only after they attempted to organize a march along Tverskaya Street.
Limonov was perplexed by the police response, as people sat on the road and shouted slogans for more than an hour without being dispersed. He even called the actions of the city authorities "suspicious." But a spokesperson from the Moscow police told journalists that there had been no plans to disperse protesters unless they posed "a threat to passers-by."