All Strategy 31 activists released, vow to carry on protests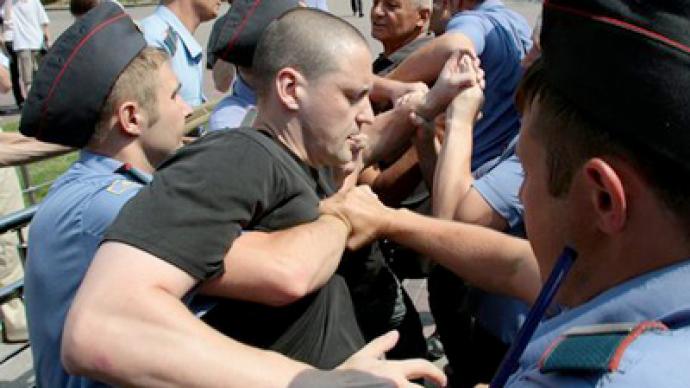 Police in Moscow and St. Petersburg have released opposition activists who were detained the previous day during unauthorized opposition rallies.
Opposition leaders say more than 60 people were detained during a rally on Triumfalnaya Square in Moscow on Tuesday, while police announced that 26 activists had been arrested. The rallies were staged in support of Article 31 of the Constitution, which guarantees the freedom of assembly. Sergey Udaltsov, the leader of the Left Front movement, said he and other activists, including Konstantin Kosyakin, Ilya Yashin and Eduard Limonov, had been also released. But the radical politicians will have to appear before the court on June 8-9 on charges of organizing an unauthorized rally.In St. Petersburg, police detained 45 participants of unauthorized rallies near Gostiny Dvor on Nevsky Prospekt and on Palace Square. The detainees were also charged with a breach of public order and disobedience to the police.The actions in Moscow and St. Petersburg were held as part of the Strategy 31 initiative. Its leader, Eduard Limonov, said that despite the dispersal of the rallies on Tuesday, he would continue with protests in support of the Article 31. The next rally will be held on July 31, he told Interfax on Wednesday. Protests on Triumfalnaya are staged on the 31st day of months of that duration.Limonov, who heads the Other Russia movement, said the organizers would try to get permission for a new action from the city's authorities. The Mayor's Office has previously refused to authorize rallies led by Limonov and his supporters. But the latest rallies organized by the head of the Moscow Helsinki Group, Lyudmila Alekseeva, on Triumfalnaya Square got the green light from the city government.   Alekseeva, who earlier organized protest actions together with Limonov, recently decided to abandon rallies on Triumfalnaya and launched a series of actions on Pushkin Square instead in support of free elections. As a result, the number of those who gather for Limonov-led actions has reduced. Police said about 100 people took part in the rally on Tuesday. The organizers of the action wanted to end it with a march, but they lacked enough people for that.
You can share this story on social media: